Printer-friendly version
PDF version
History of NCpedia
by Michelle Underhill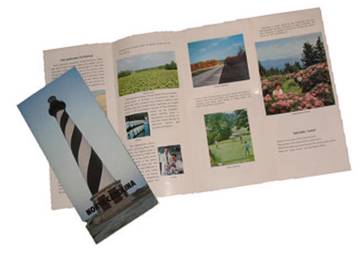 Origins
In the 1970s and 1980s, glossy brochures were produced and distributed by the State Library of North Carolina to students and others who wrote to request basic information about North Carolina.
Topics in these brochures included information about North Carolina's state symbols, historical highlights, economy, geography, higher education, state government and more.
From brochure to electronic encyclopedia
In the 1990s, it was recognized that a larger audience could be reached by placing the same information from the brochures on the World Wide Web. Thus, the online North Carolina Encyclopedia was born and the physical brochures ceased to be printed.
No longer limited by what could fit in a finite space, additional content was added and the resource expanded to include topics for which reference staff often received inquiries.
Birth of digital projects
In 2004, the online encyclopedia underwent a facelift and received a new logo to more closely incorporate North Carolina's state colors.
Requests for scanned copies of resources no longer under copyright began coming in. Staff in the Information Services Branch pulled together frequently requested resources and information on popular topics to create the State Library's first digital projects. Information about recipients of the North Carolina Awards winners were also added. These projects first appeared in the online encyclopedia.
Present and Future
The online encyclopedia has undergone yet another facelift and now has a new interface. A partnership between the State Library of North Carolina and NC LIVE has allowed topical entries to be added to a content management system (Drupal) to make them searchable. Additional partnerships with the North Carolina State Archives have resulted in the addition of new entries and images, including biographical information about all of North Carolina's past governors. NCpedia left beta on September 1, 2010. In the summer of 2012, the site was slightly redesigned in order to be optimized for mobile devices.
In 2012, NCpedia partnered with the University of North Carolina Press to integrate content from the Encyclopedia of North Carolina and Dictionary of North Carolina Biography. The expansion to include the content will take approximately three years and is made possible by a Library Services and Technology Grant from the Institute of Museum and Library Services. The Institute of Museum and Library Services is the primary source of federal support for the nation's 123,000 libraries and 17,500 museums. The Institute's mission is to create strong libraries and museums that connect people to information and ideas. Integration of the Encyclopedia of North Carolina was completed in December 2012. Integration of all entries from the Dictionary of North Carolina Biography will be completed by the end of September 2014. The North Carolina Gazetteer was made available through NCpedia in March 2014.
Additional partnerships are being formed to add more content, images and media about North Carolina to this expanding resource. If your agency or institution is interested in becoming a partner, contact information for Government & Heritage Library staff may be found at http://ncpedia.org/contact. Individuals who are interested in contributing articles or images to NCpedia may learn more about how to do so at http://ncpedia.org/contribute.
16 July 2012 | Underhill, Michelle Czaikowski