Davis, George
1 Mar. 1820–23 Feb. 1896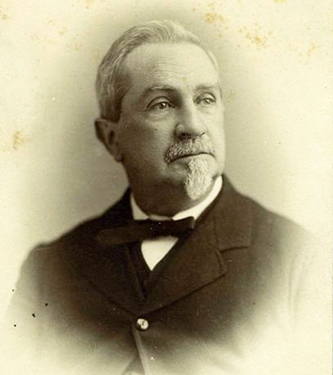 George Davis, lawyer, Confederate senator, and attorney general, was born on his father's plantation, Porter's Neck, in New Hanover (now Pender) County. His parents were Thomas Frederick and Sarah Isabella Eagles Davis. Among his mother's forebears were Sir John Yeamans, who in 1665 had received a grant of land near Wilmington for his family's loyalty to the Stuarts and in 1671 had become governor of South Carolina; and John Moore, governor of South Carolina in 1700. The Davis family, which reached Cape Fear via Massachusetts about 1725, was closely related to the Ashe, Lillington, Swann, and other prominent families of that region.
Davis attended W. H. Harden's school at Pittsboro and was then tutored at home. He entered The University of North Carolina at age fourteen and was valedictorian of the class of 1838. Afterward he studied law with his brother, Thomas Frederick, and was admitted to the bar at twenty. A year later he was licensed to practice throughout the state. Davis's first law office was in Wilmington, where his brilliance and eloquence quickly won him renown at the bar. His specialty was corporation law, though his reputation was almost as wide in maritime and criminal law and in equity practice.
In addition to his varied and remunerative law practice, Davis was in constant demand as speaker and lecturer. His lectures were generally historical in nature, with his chief interest being in colonial Cape Fear history. Although his papers are no longer authoritative, they corrected many errors in earlier writings and dramatized a little known period in North Carolina. For their preparation Davis consulted a wide range of primary sources and had the audacity to criticize both the style and interpretation of the premier nationalist historian, George Bancroft. Davis's biographical papers provide an insight into his respect for his superior officers. His address on former President Jefferson Davis, delivered in 1890, is particularly notable for its analysis of that beleaguered man's trials, for George Davis was one of the president's closest friends and advisers during the Confederacy.
Davis was a Whig in politics and his eulogy on the death of Henry Clay won high praise even from the Democratic Wilmington Journal. Though rather conservative, in national politics he favored a bank, the protective tariff, and territorial expansion; in state affairs he supported government aid to education and internal improvements. Locally he was a director of the Bank of Wilmington and a member of various literary and historical societies. In 1848 he became general counsel of the Wilmington and Weldon Railroad and remained so until it was absorbed into the Atlantic Coast Line, of which he served as general counsel until his death. Despite his public service, Davis never held elective office outside the Confederacy, though the Whig state convention of 1848 came within one vote of nominating him for governor.
When the Whig party died, Davis found no existing party acceptable. By 1860, however, he considered the ultra southern Democratic party so objectionable that he aligned with the Constitutional Union party on the grounds that the preservation of the Union preempted any sectional controversy. After Lincoln's election Davis wrote and spoke against immediate secession and urged continued search for remedies within the Union. His resolutions expressing these views, presented before a public meeting in Wilmington on 11 December, were unanimously adopted. On 26 Jan. 1861 the legislature elected him one of five delegates to the Washington Peace Conference. But he returned home with his hope of reconciliation crushed. In a speech on 2 March he castigated the constitutional amendments proposed in Washington as dishonorable and completely inimical to North Carolina's requirement of "property in slaves." He was now a secessionist, arguing that "The division must be made on the line of slavery. The State must go with the South." This startling conversion caused Davis's name to be considered for a place in the convention of May 1861 but he published a card blocking his candidacy.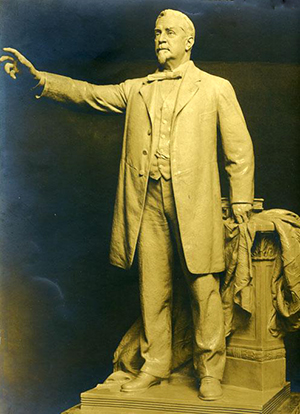 Nevertheless, a caucus of secessionists strategically included Davis in their slate of nominees for the Confederate Provisional Congress, and on 18 June he was elected delegate-at-large. That September he won a seat in the Senate on the twenty-fifth ballot, but drew only a two-year term and in 1863 lost reelection to William A. Graham. In the Senate Davis was on the committees of Buildings and Finance and was chairman of the Committee on Claims. As senator he became such a strong supporter of the administration that other ex-Whigs in his delegation considered him a "camp follower of the precipitators." A fairer interpretation would be to rate him as one of North Carolina's strongest Confederate nationalists. Most of the bills that he introduced aimed to create as large and effective an army as possible. And except for his extreme conservatism in financial matters he withheld no important powers from the central government. Indeed, he was one of four senators willing to give the proposed supreme court appellate jurisdiction over state courts. On 31 Dec. 1868, the president appointed Davis attorney general.
Assuming office on 22 Jan. 1864, Davis performed the many routine duties of attorney general with dispatch and satisfaction. He wrote seventy-four opinions, most of them brief but often containing ideas of real merit. Generally he maintained a rigid compliance with the law, but frequently he had the common sense to disregard laws when necessary, particularly when they seem to have been poorly formulated. His chief service to the Confederacy, however, may have been his friendly advice to the president. Davis's kindly nature and winning personality often bridged gaps between the sensitive president and his critics. The president undoubtedly developed a genuine respect for his gracious and cosmopolitan appointee, and their relationship developed into a lasting friendship. When Lee surrendered, Davis advised the president to accept the best terms obtainable and to divide the remaining money in the Treasury with the soldiers. He accompanied the refugee government as far as Charlotte, then attempted to flee to England by way of Florida and Nassau. He was captured at Key West, however, and taken to Fort Hamilton in New York. Immediately after his parole on 2 Jan. 1866, he returned to Wilmington.
Davis was now in poverty with six motherless children. For the next few years his open criticism of Reconstruction kept him before the public, but he generally refused to seek public office, devoting most of his energies to rebuilding his law practice and to his work as railroad counsel. The few public services that he performed, therefore, were of brief duration. In 1866 he was a delegate to the Philadelphia Convention, designed to unite moderate Republicans and Democrats. On 14 Apr. 1868, before a capacity crowd in Wilmington, he excoriated the Radicals and their proposed constitution of that year. When it was approved, Davis labored for its reform and eventually saw success in 1875. Three years later Governor Vance offered Davis the chief justiceship of the state supreme court, but he declined it on the grounds that he could not live on the salary. In 1880 a group of northern financiers offered to buy the state's interest in the Western North Carolina Railroad; Governor Jarvis asked Davis and Thomas Ruffin to handle the proposition, both serving without remuneration. The legislature was divided on the advisability of sale, but on 22 March Davis "swept away all opposition" to the sale. Thereafter, with the exception of a few historical addresses, Davis attended to his law practice until his death. He died at home in Wilmington after several years of declining health and was buried with military honors in Oakdale Cemetery.
Physically, Davis was short and heavy-set. He possessed only ordinary vocal powers, but the preparation, imagination, and style of his addresses earned him an enormous reputation. By faith he was a devout Episcopalian. On 17 Nov. 1842 Davis married Mary A. Polk of Mecklenburg County, who died in 1863; on 9 May 1866 he married Monimia Fairfax of Richmond, who died in 1889. The surviving children by his first wife were Junius Davis and Mrs. George Roundtree; deceased children were Mrs. John E. Crow and Mrs. S. P. Shotter. The surviving children by his second wife were Mary Fairfax and Carry Davis.
Update from N.C. Government & Heritage Library staff:
Correction to this entry: George Davis was appointed Attorney General of the Confederate States in 1863, not 1868.
-- Kelly Agan, N.C. Government & Heritage Library
References:
Samuel A. Ashe, ed., Biographical History of North Carolina, vol. 2 (1905 [portrait]).
H. G. Connor, George Davis (1911).
Fletcher M. Green, "George Davis, North Carolina Whig and Confederate Statesman," North Carolina Historical Review 23 (1946).
Journal of the Confederate Congress, vols. 1–3 (1904).
Journal of the Convention of North Carolina, 1861.
Journal of the General Assembly, 1861, 1863.
Rembert Patrick, Jefferson Davis and His Cabinet (1944), Opinions of the Confederate Attorneys General (1950).
James Sprunt, Chronicles of the Cape Fear River (1911).
Wilmington Messenger, 25 Feb. 1896.
W. B. Yearns, Letters of Thomas J. Jarvis, vol. 1 (1969).
Additional Resources:
"George Davis 1820-1896." N.C. Highway Historical Marker D-36, N.C. Office of Archives & History. http://www.ncmarkers.com/Markers.aspx?sp=Markers&k=Markers&sv=D-36 (accessed May 3, 2013).
Thuersam, Bernhard. "George Davis: Christian, Senator, Attorney General". Cape Fear Historical Institute Papers. http://www.cfhi.net/GeorgeDavisChristianSenatorAttorneyGeneral.php (accessed May 3, 2013).
Ashe, Samuel A. (Samuel A'Court). "George Davis, attorney-general of the Confederate States : an address delivered before the Supreme Court of North Carolina, October 19, 1915." Raleigh, N.C. : Edwards & Broughton Print. Co. 1916. http://archive.org/details/georgedavisattor00ashe (accessed May 3, 2013).
"George Davis Monument, Wilmington." Commemorative Landscapes of North Carolina. Documenting the American South, University of North Carolina at Chapel Hill. http://docsouth.unc.edu/commland/monument/112/ (accessed May 3, 2013).
Davis and Walker Family Papers, 1755-1962 (collection no. 04172). The Southern Historical Collection. Louis Round Wilson Special Collections Library. University of North Carolina at Chapel Hill. http://www.lib.unc.edu/mss/inv/d/Davis_and_Walker_Family.html (accessed May 3, 2013).
Image Credits:
Cronenburg, H.  "Photograph, Accession #: H.1946.14.147." Wilmington, N.C. 1900-1920. North Carolina Museum of History.
Ording. "Photograph, Accession #: H.19XX.327.121." 1920-1925. North Carolina Museum of History.
1 January 1986 | Yearns, Buck