Printer-friendly page
Pisgah National Forest
Pisgah National Forest was the first of North Carolina's national forests.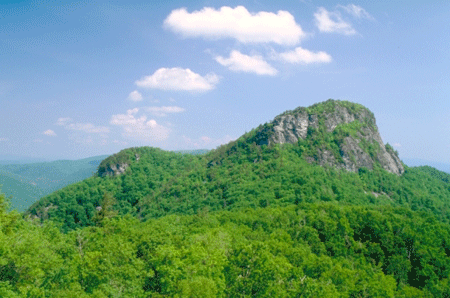 It derived its name from Buncombe County's Mount Pisgah, named in 1776 by the Reverend James Hall during Gen. Griffith Rutherford's expedition against the Cherokee. The biblical "Pisgah" was the peak from which Moses, though not allowed to enter, could view the promised land.
The genesis of the Pisgah National Forest was directly related to the forest holdings of George W. Vanderbilt, whose Biltmore estate near Asheville was completed in the 1890s. For a time, experienced forestry experts such as Carl Alwin Schenck and Gifford Pinchot managed Vanderbilt's extensive lands, but Schenck's Biltmore Forest School, established in 1898 as the first professional forestry field school in the United States, closed in 1913. The Weeks Act was passed by Congress on 1 Mar. 1911, authorizing the federal purchase of eastern lands for conservation purposes. In 1915 the widowed Mrs. George Vanderbilt sold approximately 86,700 acres to the federal government at a nominal price. Despite the chance for vast material benefit, Vanderbilt realized that only the federal government could preserve the forest, which became the Pisgah National Forest and remains roughly the same size today.
Currently the Pisgah National Forest lies in 15 North Carolina counties. The forest is divided into three separate ranger districts according to geographic features. The Grandfather District includes Avery, Burke, Caldwell, Watauga, and McDowell Counties. The Appalachian District manages land in Haywood, Madison, Avery, Buncombe, Mitchell, and Yancey Counties. Finally, the Pisgah District covers parts of Buncombe, Haywood, Henderson, and Transylvania Counties. The total land amount in the early 2000s was over 510,000 acres.
Additional information from NCpedia editors at the State Library of North Carolina: :
Following George Vanderbilt's death in March 1914, Edith Vanderbilt renewed the offer to sell the land to the federal government that had been made by the Vanderbilt's the year before in 1913.  A month after her husband's death, she wrote a letter indicating her interest in selling the 86,700 acres at a price of $5 per acre, some $200,000 less than the original offer.
References:
Thomas Clark, The Greening of the South: The Recovery of Land and Forest (1984).
Sharyn Kane and Richard Keaton, Southern National Forests (1993).
Carl Alwin Schenck, The Birth of Forestry in America: Biltmore Forest School, 1898-1913 (1955).
Additional Resources:
American Forestry Association. American Forestry Volume XX (1914). Washington, D.C.: 1914. https://archive.org/details/americanforests20natiuoft (accessed April 7, 2015).
United States Department of the Interior, National Park Service.  Biltmore Estate, National Historic Landmark Nomination Form. https://www.nps.gov/nhl/find/statelists/nc/Biltmore.pdf (accessed April 16, 2015).
1 January 2006 | Bonner, Michael