Printer-friendly page
Young man receiving moxibustion treatment from woman in Ho Chi Minh City
Young man receiving moxibustion treatment from woman in Ho Chi Minh City
A young man sits and receives a moxibustion treatment from an older woman in Ho Chi Minh City. The woman is burning "moxa" or mugwort herb within small, round glass cups that are placed at specific points on his bare back. The moxibustion practitioner is in the process of adding or removing a glass cup to her patient's back. Nine cups still are attached to his back. Several round reddish spots can be seen where treatment has been completed and other cups have been removed.
Moxibustion is an ancient Chinese medical technique linked to acupuncture. It is believed by medical historians to predate acupuncture by using heat and herbs rather than needles to stimulate the flow of energy or qi through a patient's body. The herb mugwort (Artemsia vulgaris) is shredded and burned within the cups (or sometimes sticks) that are placed on the same body points stimulated for acupuncture treatments. The patient experiences penetrating and healing heat at the point of contact, although some older methods can result in burning and scarring of the skin. Moxibustion is a popular method of Chinese-influenced traditional medicine used to treat a variety of "cold" or stagnant conditions, including flu and indigestion.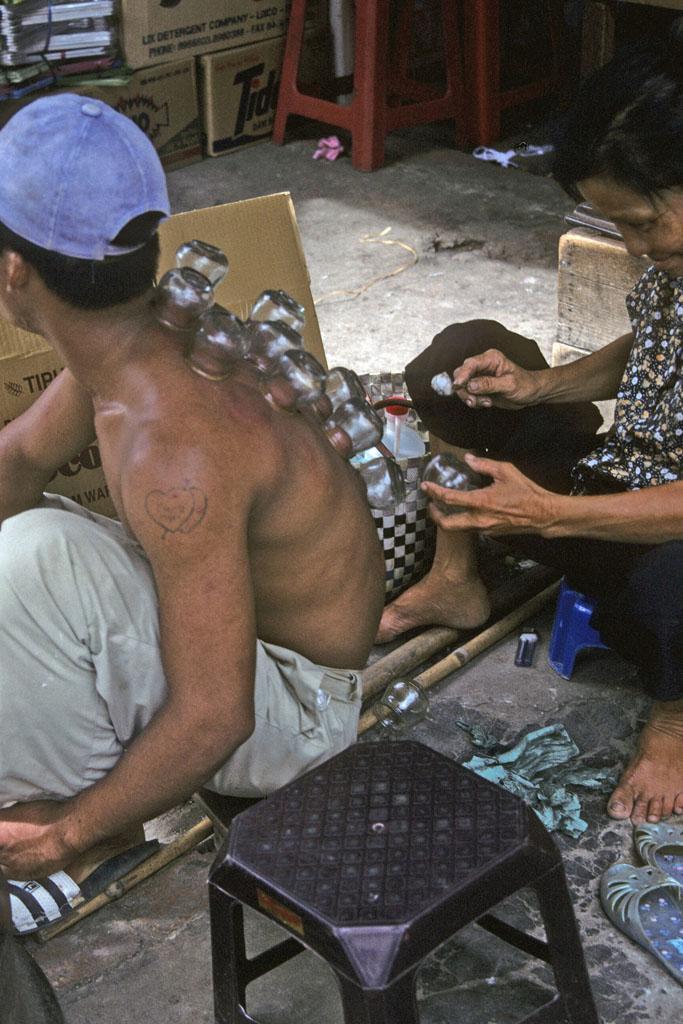 Usage Statement:
This item has a Creative Commons license for re-use.  The Creative Commons BY NC SA license means that you may use, remix, tweak, and build upon the work for non-commerical purposes purposes as long as you credit the original creator and as long as you license your new creation using the same license. That means that you cannot alter it. For more information about Creative Commons licensing and a link to the license, see full details at https://creativecommons.org/licenses/by-nd/4.0/.