Contact us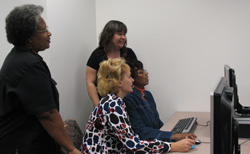 Questions, comments and suggestions for the NCpedia may be sent to the at the Government & Heritage Library, State Library of North Carolina, NC Department of Cultural Resources. Or use the form below.
Project staff includes:
Kelly Agan, Digital Media Librarian.
T. Mike Childs, Digital Publishing Librarian.
Laurie Reeves, System Support Librarian.
Michelle Czaikowski Underhill, Director, Digital Information Management Program.
Have a North Carolina history or genealogy question? Or, want to learn more about something you read in the NCpedia? Reference inquiries about North Carolina may be directed to .
If you are interested in contributing photographs or articles to NCpedia, contact us with your proposed topic and visit our "how to contribute" page for guidelines.