North Carolina's 100 Counties
There are 100 counties in North Carolina. Click on the county links below to access information about a particular county.
Related entries:
Counties (history)
Places named for Governors
North Carolina County Development Time Map, 1664-1911
North Carolina County Formation: Dates and Parent Counties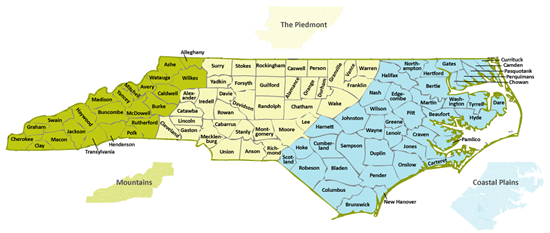 Western counties now in Tennessee:
District of Washington (formerly the Watauga Settlement), annexed to North Carolina in 1776, name changed to Washington County in 1777 and ceded to the U.S. Government in 1790.
Sullivan County, formed in 1779 from Washington County, now Tennessee
Davidson County, formed from Washington County in 1783, now Tennessee
Image credit:
Rudersdorf, Amy. 2010. "NC County Maps." Government & Heritage Library, State Library of North Carolina.
10 October 2012