LAND AREA: 334.83 square miles
2013 POPULATION ESTIMATE: 38,038      
White: 94.5%
Black/African American: 3.4%    
American Indian: 0.6%        
Asian: 0.3%   
Pacific Islander: 0.1%
Two or more races: 1.0%
Hispanic/Latino: 10.5% (of any race)
From State & County QuickFacts, US Census Bureau, 2014.
Biographies for


Yadkin County

Wildlife profiles
Piedmont region
Geographic Information
REGION: Piedmont
RIVER BASIN: Yadkin-Pee Dee
NEIGHBORING COUNTIES: Davie, Forsyth, Iredell, Surry, Wilkes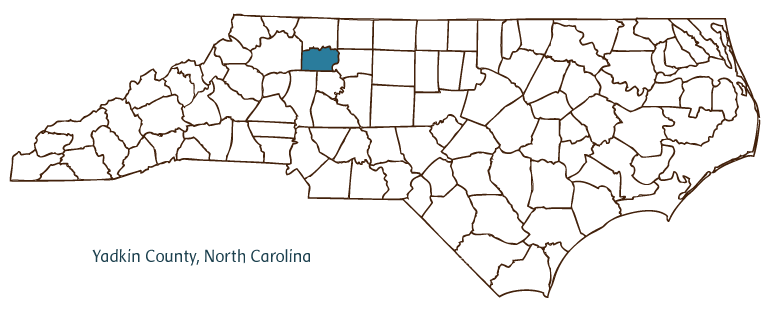 Yadkin County, located in the Piedmont region of northwestern North Carolina in the foothills of the Blue Ridge Mountains, was formed in 1850 from Surry County and named for the Yadkin River. Early inhabitants of the area included the Tutelo and Saponi Indians, followed by German, Scotch-Irish, Welsh, and English settlers. Quakers also migrated to the area in the eighteenth century. Yadkinville, the county seat, was chartered in 1857 and named after the county. Other Yadkin County communities include Arlington, Jonesville, Boonville, East Bend, Courtney, Lone Hickory, Center Brooks, Marler, Smithtown, and Forbush. Notable physical features of the county include the Yadkin River, Brushy Mountains, Fox Knob, and Cobb, Beaverdam, Fall, Lineberry, Froeman, Cranberry, and Deep Creeks.
Yadkin County produces agricultural goods such as grains, tobacco, corn, soybeans, apples, livestock, and poultry. Manufactured products include textiles, hosiery, plastics and styrofoam, furniture, apparel, and stainless steel. Minerals such as feldspar, agate, jasper, limestone, mica, and iron ore are found in the county.
Yadkin County landmarks include the Tulbert House, built around 1852; Bourman Mill Dam, built in the late nineteenth century; and Deep Creek Friends Meeting Cemetery, established around 1801. Richmond Hill, once a law school and home of North Carolina Supreme Court chief justice Richmond Pearson, is now a historic park. Cultural institutions in Yadkin County include the Charles Bruce Davis Museum of Art, History, and Science and the Yadkin Arts Council. The county hosts popular events and festivals such as the Yadkinville Harvest Festival, Yadkinville Annual Magic Show, Boonville Heritage Days Festival, and Yadkinville Bluegrass Contest and Fiddlers' Convention. Yadkin County's estimated population was 37,000 in 2004.
1 January 2006 | Bayley, Elizabeth