Printer-friendly version
PDF version

LAND AREA: 526.28 square miles
POPULATION: 919,628
White: 508,946
Black/African American: 282,804
American Indian: 4,261
Asian: 42,352
Pacific Islander: 668
Other: 57,113
Two or more races: 23,484
Hispanic/Latino: 111,944 (of any race)
From the 2010 Census, US Census Bureau.
Biographies for


Mecklenburg County

Wildlife profiles
Piedmont region
Geographic Information
REGION: Piedmont
RIVER BASIN: Catawba, Yadkin-Pee Dee
NEIGHBORING COUNTIES: Cabarrus, Gaston, Iredell, Lincoln, Union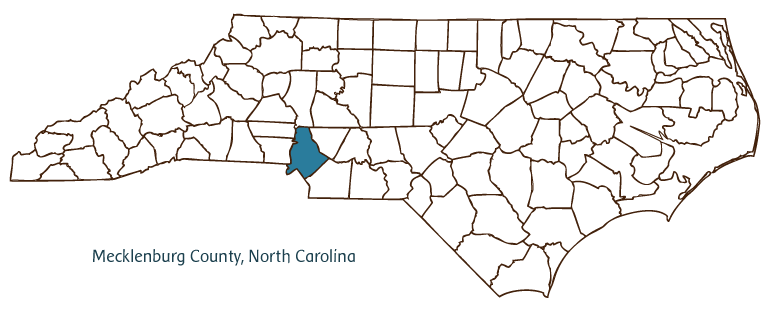 Mecklenburg County, located in North Carolina's Piedmont region, was formed from Anson County in 1762 and took its name from the German duchy of Mecklenburg-Strelitz, home of the wife of King George III, Charlotte Sophia. The county seat, Charlotte (incorporated in 1768 and originally called Charlotte Town), was named after the queen as well. Today Mecklenburg County is the most populous county in the state (with an estimated population of 769,000 in 2004) and Charlotte the largest city; the communities of Davidson, Cornelius, Huntersville, Mint Hill, Matthews, Pineville, Newell, Allen, Paw Creek, and Caldwell are also in Mecklenburg County.
Catawba, Waxhaw, and Saponi Indians originally inhabited the region. In the mid-1700s, Scotch-Irish settlers established what would later become Charlotte at the intersection of two Indian trading routes near the Catawba River. Despite the allegiance to the king demonstrated by the city's chosen name, Charlotteans in time earned the moniker "Hornet's Nest" for patriotic fervor during the Revolution. The date of 20 May 1775 is featured on North Carolina's state flag in commemoration of the "Mecklenburg Declaration of Independence," a disputed chapter in North Carolina history.
In 1799 a 17-pound gold nugget was unearthed in Mecklenburg County (in what is now Cabarrus County)-the first such discovery in the new nation-prompting a gold rush and the establishment of a branch of the U.S. Mint in Charlotte. The city grew into its role as a financial hub; by the early 2000s it was home to two of the largest banking chains in the country, the Bank of America and Wachovia Corporation, and had emerged as the nation's second-largest banking center (trailing only New York City). Today Charlotte is one of the most populous metropolises in the southeastern United States. The city is home to the Charlotte Bobcats of the National Basketball Association, the Carolina Panthers of the National Football League, and NASCAR's Lowe's Motor Speedway. Among its natives sons are President James K. Polk (celebrated by a State Historic Site) and evangelist Billy Graham.
Other Mecklenburg County cultural and historic attractions include the Hezekiah Alexander House, the Charlotte Museum of History, and the Latta Plantation. The Levine Museum of the New South focuses on broader issues of the North Carolina Piedmont. The Mint Museum of Art, the Charlotte Repertory Theater, the Charlotte Symphony Orchestra, and Opera Carolina add to the cultural fabric of Mecklenburg County. Institutions of higher learning in the county include the University of North Carolina at Charlotte, Queens University of Charlotte, Johnson C. Smith University, and Davidson College.
Update from NCpedia Staff:
Wachovia Corporation became Wells Fargo in 2008.
The Lowe's Motor Speedway changed its name to the Charlotte Motor Speedway in 2010.
Charlotte Repertory Theatre closed in February of 2005.
1 January 2006 | Vocci, Robert Blair