Printer-friendly page
Andy Griffith and Cape Hatteras Lighthouse photos
Actor and native North Carolinian, Andy Griffith, is seen holding two Morton photos of the Cape Hatteras Lighthouse taken in April 1982 and August 1983, showing the effects of efforts to build up the shoreline near the Lighthouse. Griffith was a homeowner in Dare County, NC, and advocated for the lighthouse to remain in its orginal position.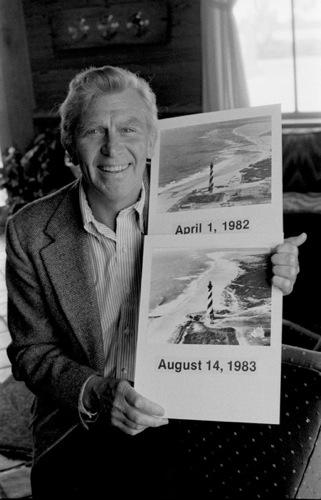 Citation (Chicago Style):
Read the related article:
Usage Statement:
"All rights reserved" is a traditional copyright term that indicates that the copyright holder reserves for his/her/their own use all of the rights given to copyright owners under U.S. copyright law. Items that are included in NCpedia and/or ANCHOR with this rights statement appear by agreement or permission from the rights holder or the institution that holds the item. Click "Available at" to visit the website for the collection where the item appears for more information about the rights or specific uses allowed. For all other non-specified uses, please contact the copyright holder or item owner.