Printer-friendly page
Bird's-eye view of North Carolina College of Agriculture and Mechanic Arts
A drawing of the campus of the North Carolina College of Agriculture and Mechanic Arts (later North Carolina State University), 1897. The first four buildings on the left are dormitories. To the right of the dormitories is Watauga Hall built in 1902-1903, designed by Charles Barrett. In the back of the map is a barn and in front of the barn, the building with the smoke stack, is the Louis Thompson Yarborough Steam Plant. The plant was designed by Joseph E. Sirrine and built in 1924. To the left of the plant is the dairy and shops. The shops were designed by H.P.S. Keller. The largest building on the map is the main building, today known as Holladay Hall. The building in the right top corner is Primrose Hall. Take a look at NCSU's current campus, and compare and contrast the 2018 campus to the 1897 campus. What factors do you think led to the expansion of North Carolina College of Agriculture and Mechanic Arts?
(Citation below is written as instructed by NCSU Libraries: https://d.lib.ncsu.edu/collections/about#rights_and_use)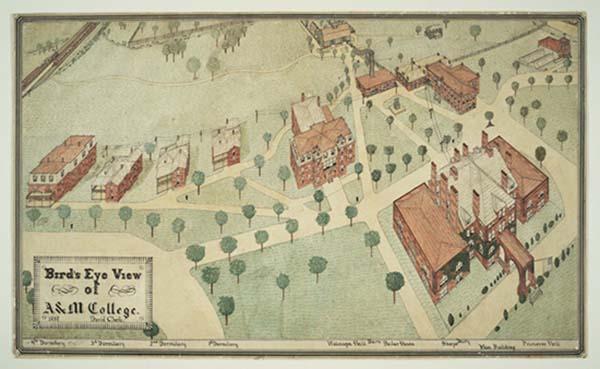 Citation (Chicago Style):
Read the related article:
Usage Statement:
This item has a Creative Commons license for re-use.  The Creative Commons BY-NC-ND license means that you may copy or redistribute the item for any purpose, even commercially, as long as you give credit to the original author or creator of the item and provide a link to the license. This license does not allow for any remixing, transforming, or building upon the original. That means that you cannot alter it. For more information about Creative Commons licensing and a link to the license, see full details at https://creativecommons.org/licenses/by-nc-nd/4.0/.