Printer-friendly page
Blind Boy Fuller Monument
A monument to the late local bluesman Blind Boy Fuller stands on the American Tobacco Trail in Durham, North Carolina. The monument reads: Blind Boy Fuller 1907-1941 (aka Fulton Allen) Most influential Piedmont bluesman born in North Carolina. Played on the streets and around the tobacco warehouses of Durham. Lived in Hayti. Became a popular recording artist during the 1930s. Buried nearby.
For more about Fulton Allen go to: https://www.ncdcr.gov/blog/2018/02/13/durhams-blues-legend-blind-boy-fuller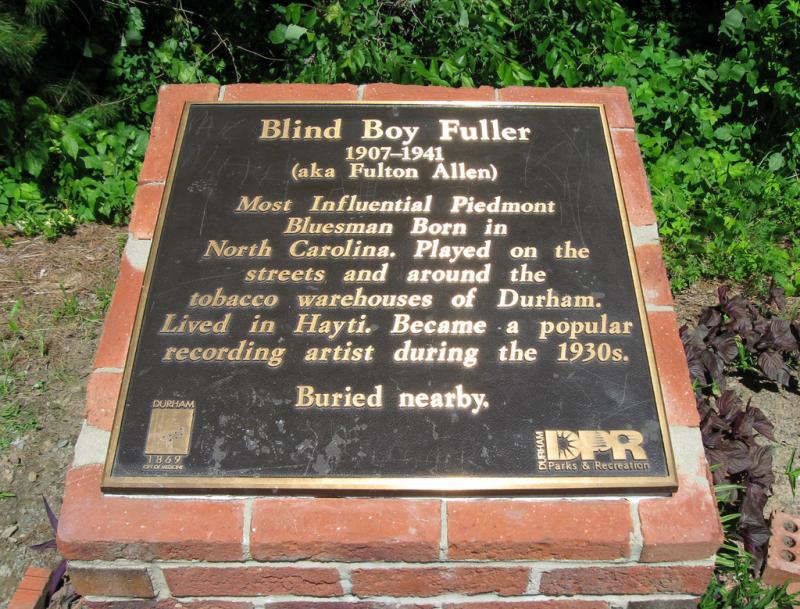 Citation (Chicago Style):
Read the related article:
Usage Statement:
"All rights reserved" is a traditional copyright term that indicates that the copyright holder reserves for his/her/their own use all of the rights given to copyright owners under U.S. copyright law. Items that are included in NCpedia and/or ANCHOR with this rights statement appear by agreement or permission from the rights holder or the institution that holds the item. Click "Available at" to visit the website for the collection where the item appears for more information about the rights or specific uses allowed. For all other non-specified uses, please contact the copyright holder or item owner.