Printer-friendly page
Company E, 4th U.S. Colored Infantry, at Fort Lincoln
Although many African Americans wanted to join the Union army during the first two years of the Civil War, they were often turned away. But after January 1, 1863 -- the day Lincoln delivered the Emancipation Proclamation -- the Union actively began recruiting African Americans as soldiers. The units remained segreggated, but multiple all-black units were formed, including Company E, 4th United States Colored Infantry, pictured below. 
Company E, 4th United States Colored Infantry was assigned to defend D.C. Pictured below are 27 African Americans of Company E during the Civil War, standing in two lines with rifles resting on the ground.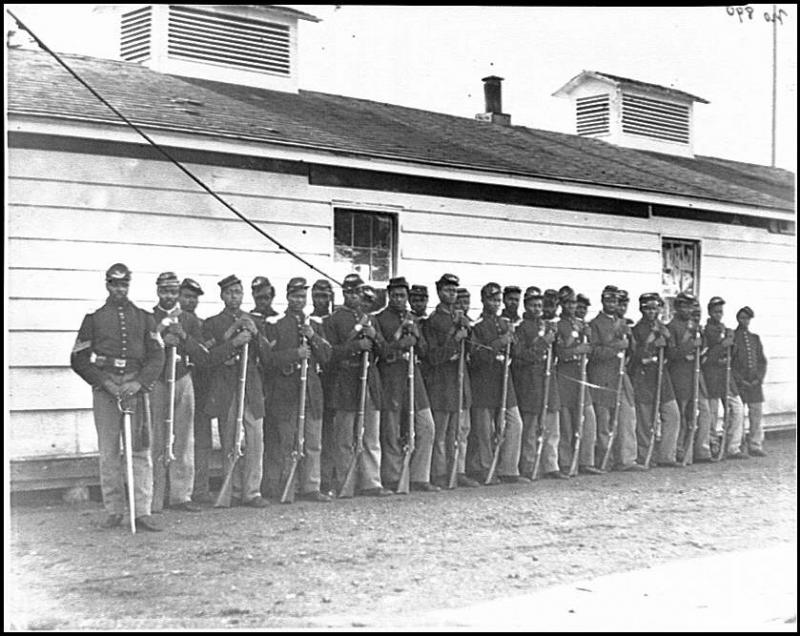 Citation (Chicago Style):
Smith, William Morris. [District of Columbia. Company E, 4th U.S. Colored Infantry, at Fort Lincoln]. 1863-1866. Photograph. Library of Congress Prints and Photographs Division Washington, D.C.https://www.loc.gov/pictures/item/2018667050/
Usage Statement:
Public Domain is a copyright term that is often used when talking about copyright for creative works. Under U.S. copyright law, individual items that are in the public domain are items that are no longer protected by copyright law. This means that you do not need to request permission to re-use, re-publish or even change a copy of the item. Items enter the public domain under U.S. copyright law for a number of reasons: the original copyright may have expired; the item was created by the U.S. Federal Government or other governmental entity that views the things it creates as in the public domain; the work was never protected by copyright for some other reason related to how it was produced (for example, it was a speech that wasn't written down or recorded); or the work doesn't have enough originality to make it eligible for copyright protection.