Fallen motocycle and cargo on the road from Dalat to Ho Chi Minh City
A fallen motorcycle with several large sacks of cargo is seen through the front window of a tour bus on the road from Dalat to Ho Chi Minh City. The motorcycle driver stands by his bike in the middle of the road, seemingly uninjured. Several large white sacks, which likely hold rice or other farm produce for sale, also are lying beside the motorcycle on the road.The driver is staring forward at the bus, perhaps seeking help, but possibly accusing the bus driver of causing the motorcycle's spill. As elsewhere, road accidents in Southeast Asia often lead to exchanges of angry words, sometimes even mob violence if a local child is killed.Also in view, hanging in the window of the bus from where the photograph was taken, are two typically Asian good luck charms. Most drivers hang such amulets from their mirrors to protect them from dangers such as road accidents.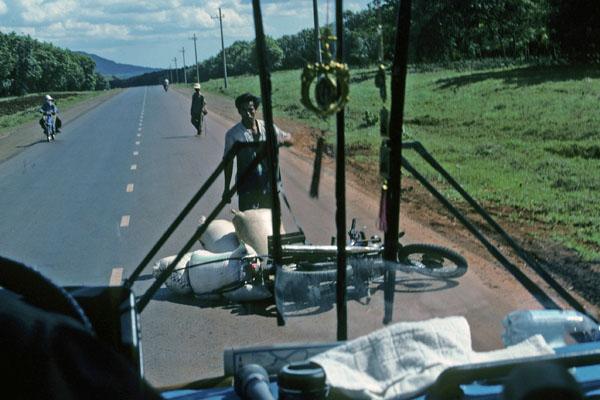 Usage Statement:
This item has a Creative Commons license for re-use.  The Creative Commons BY NC SA license means that you may use, remix, tweak, and build upon the work for non-commerical purposes purposes as long as you credit the original creator and as long as you license your new creation using the same license. That means that you cannot alter it. For more information about Creative Commons licensing and a link to the license, see full details at https://creativecommons.org/licenses/by-nd/4.0/.