Printer-friendly page
Alamance Battleground, Preparing a Cannon
This is an image of contemporary re-enactors preparing a cannon at Alamance Battleground Historic Site in Alamance County, N.C.  They are engaged in re-enacting the Battle of Alamance of May 16, 1771.
After several years of increasing rebellion and violence from backcountry residents protesting fees and government corruption (called the Regulators), Governor Tryon sent militia to deal with them at Alamance in May of 1771. The battle occurred on May 16, with Tryon's milita taking the victory.  Several Regulators were taken captive and tried for treason, and 6 were hanged.
Re-enactments take place at Alamance Battleground, a North Carolina State Historic Site near Burlington in Alamance County.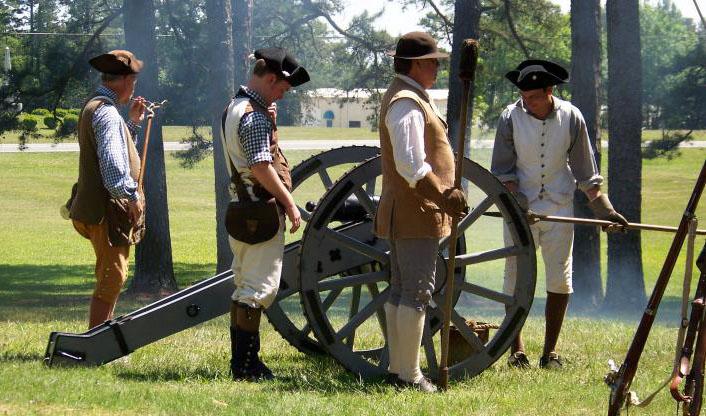 Citation (Chicago Style):
Read the related article:
Usage Statement:
"All rights reserved" is a traditional copyright term that indicates that the copyright holder reserves for his/her/their own use all of the rights given to copyright owners under U.S. copyright law. Items that are included in NCpedia and/or ANCHOR with this rights statement appear by agreement or permission from the rights holder or the institution that holds the item. Click "Available at" to visit the website for the collection where the item appears for more information about the rights or specific uses allowed. For all other non-specified uses, please contact the copyright holder or item owner.