Printer-friendly page
Anchor 1, Queen Anne's Revenge
Photograph of Anchor No. 1, recovered by archaeologists from the 18th century pirate ship Queen Ann'es Revenge off the coast of North Carolina. The Queen Anne's Revenge (also called the QAR) was the sailing ship of the pirate Edward Teach, also known as Blackbeard. The ship had at least three anchors. This one, weighing 1,965 pounds, was recovered from the ship's wreckage, submerged off the coast of North Carolina, on May 27, 2011.
This image comes from the North Carolina Department of Natural and Cultural Resources.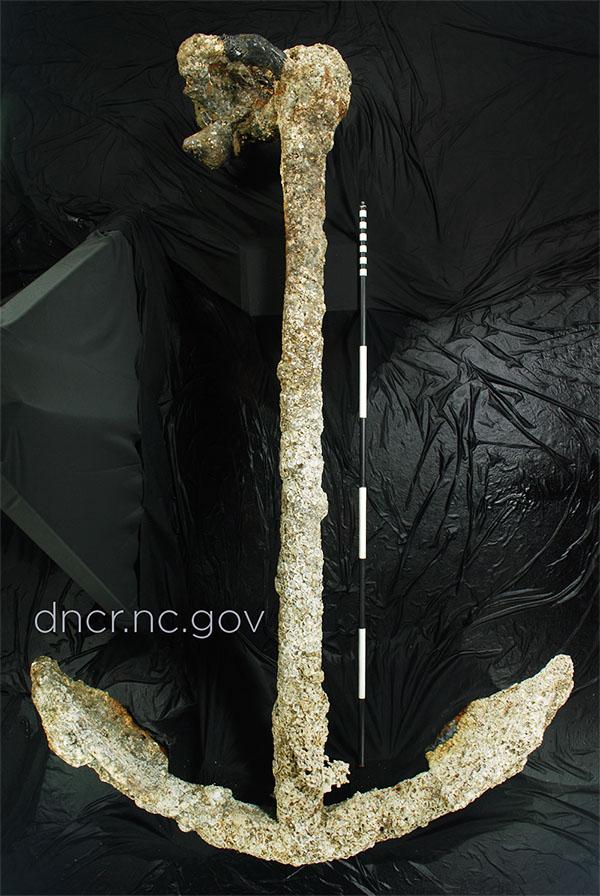 Citation (Chicago Style):
Read the related article:
Usage Statement:
"All rights reserved" is a traditional copyright term that indicates that the copyright holder reserves for his/her/their own use all of the rights given to copyright owners under U.S. copyright law. Items that are included in NCpedia and/or ANCHOR with this rights statement appear by agreement or permission from the rights holder or the institution that holds the item. Click "Available at" to visit the website for the collection where the item appears for more information about the rights or specific uses allowed. For all other non-specified uses, please contact the copyright holder or item owner.