March on Washington demonstrators with their feet in the Reflecting Pool, 1963
Protestors came all over the country and the march was long. By 10am the demonstrators were supposed to be at the Washington Monument, at noon the walking began. The march began at Independence Ave and Constitutional Ave and ended at the Lincoln Monument, which is a little less than one mile. The march was at 2pm the speeches and performances in front of the Lincoln Monument began. Overall, it was a long day.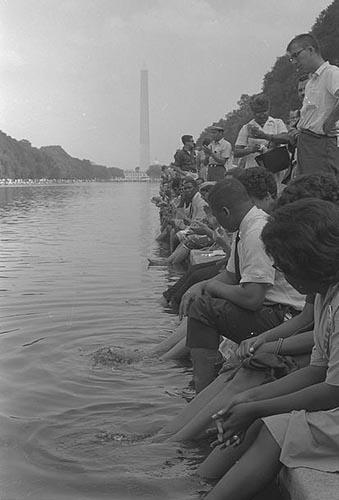 Citation (Chicago Style):
Leffler, Warren K. "[Demonstrators sit, with their feet in the Reflecting Pool, during the March on Washington, 1963.]" Film negative. Washington, D.C.: 1963. Library of Congress Prints and Photographs Division. https://www.loc.gov/resource/ds.00834/ (accessed August 1, 2018).
Read the related article: