Printer-friendly page
Monument to Nathaniel Greene, Guilford Battle Ground, Greensboro, N.C.
This is a postcard image of the Monument to Nathaniel Greene, located at Guilford Battleground in Greensboro, N.C.  Nathaniel Greene was a Quaker from Rhode Island who rose to the rank of general under George Washington in the American Revolution.  Washington appointed him to the command troops in the South during the war. Greene led his Patriot forces against Lord Charles Cornwallis's at the Battle of Guilford Courthouse on March 15, 1781.  Although the Patriots led by Greene lost the battle, the British army under Cornwallis lost substantial troops and were severely weakened. This paved the way for Cornwallis's surrender at Yorktown in October later that year, bringing an end to the Revolutionary War.
The monument, composed of a bronze equestrian statue on a granite bases, was dedicated on July 3, 1915.  Today the battleground is National Park Service National Military Park, Guilford Courthouse: https://www.nps.gov/guco/index.htm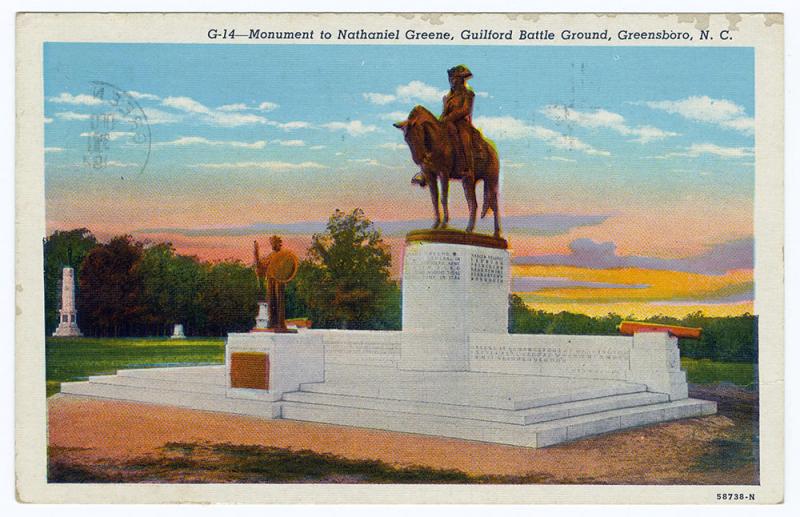 Citation (Chicago Style):
"Monument to Nathaniel Greene, Guilford Battle Ground, Greensboro, N.C." Illustration. [date unknown]. Burlington, N.C.: David News Co. In Durwood Barbour Collection of North Carolina Postcards (P077), North Carolina Collection Photographic Archives, Wilson Library, UNC-Chapel Hill. https://dc.lib.unc.edu/cdm/ref/collection/nc_post/id/5477
Read the related article:
Usage Statement:
"All rights reserved" is a traditional copyright term that indicates that the copyright holder reserves for his/her/their own use all of the rights given to copyright owners under U.S. copyright law. Items that are included in NCpedia and/or ANCHOR with this rights statement appear by agreement or permission from the rights holder or the institution that holds the item. Click "Available at" to visit the website for the collection where the item appears for more information about the rights or specific uses allowed. For all other non-specified uses, please contact the copyright holder or item owner.