Printer-friendly page
Letter from John Adams to Abigail Adams, 3 July 1776 (page 2)
Second page of two-page letter from John Adams to Abigail Adams, July 3, 1776. The page reads:
It is too high and lifted up, for me; who delight in nothing so much as Retreat, Solitude, Silence, and Obscurity. In private Life, no one has a Right to censure me for following my own Inclinations, in Retirement, Simplicity, and Frugality: in public Life, every man has a Right to remark as he pleases, at least he thinks so.
Yesterday the greatest Question was decided, which ever was debated in America, and a greater perhaps, never was or will be decided among Men. A Resolution was passed without one dissenting Colony "that these united Colonies, are, and of right ought to be free and independent States, and as such, they have, and of Right ought to have full Power to make War, conclude Peace, establish Commerce, and to do all the other Acts and Things, which other States may rightfully do." You will see in a few days a Declaration setting forth the Causes, which have impell'd Us to this mighty Revolution, and the Reasons which will justify it, in the Sight of God and Man. A Plan of Confederation will be taken up in a few days.
When I look back to the Year 1761, and recollect the Argument concerning Writs of Assistance, in the Superiour Court, which I have hitherto considered as the Commencement of the Controversy, between Great Britain and America, and run through the whole Period from that Time to this, and recollect the series of political Events, the Chain of Causes and Effects, I am surprised at the Suddenness, as well as Greatness of this Revolution. Britain has been fill'd with Folly, and America with Wisdom, at least this is my Judgment. Time must determine. It is the Will of Heaven, that the two Countries should be sundered forever. It may be the Will of Heaven that America shall suffer Calamities still more wasting and Distresses yet more dreadful If this is to be the Case, it will have this good Effect, at least: it will inspire Us with many Virtues, which We have not, and correct many Errors, Follies, and Vices, which threaten to disturb, dishonour, and destroy Us. The Furnace of Affliction produces Refinement, in States as well as Individuals. And the new Governments we are assuming, in every Part, will require a Purification from our Vices, and an Augmentation of our Virtues or they will be no Blessings. The People will have unbounded Power. And the People are extreamly addicted to Corruption and Venality, as well as the Great. I am not without Apprehensions from this Quarter. But I must submit all my Hopes and Fears, to an overruling Providence, in which, unfashionable as the Faith may be, I firmly believe.
This letter is continued from the first page. A subsequent letter is also available.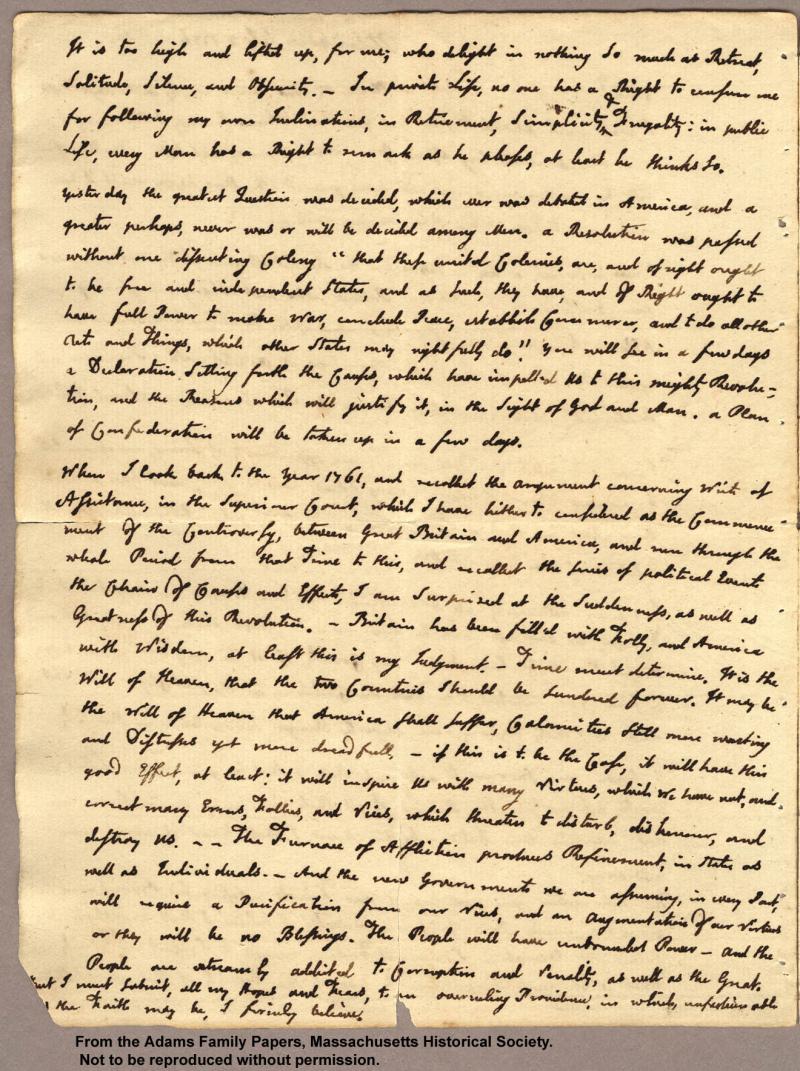 Usage Statement:
"All rights reserved" is a traditional copyright term that indicates that the copyright holder reserves for his/her/their own use all of the rights given to copyright owners under U.S. copyright law. Items that are included in NCpedia and/or ANCHOR with this rights statement appear by agreement or permission from the rights holder or the institution that holds the item. Click "Available at" to visit the website for the collection where the item appears for more information about the rights or specific uses allowed. For all other non-specified uses, please contact the copyright holder or item owner.