Printer-friendly page
Linn Cove Viaduct on the Blue Ridge Parkway
This is the Linn Cove Viaduct on the Blue Ridge Parkway in Watauga County. It can be seen in the background of this photo, curving around Grandfather Mountain. The roadway in the foreground is a bridge. Most of the nearly 470 miles of the Parkway were completed by 1967, but fears of harming the habitat and damaging Grandfather Mountain prevented completion of about 7.5 miles of the Parkway. Engineers, landscape architects, and National Highway Administration employees finally settled on a compromise in the late 1970s; they would create an elevated bridge that snaked through Linn Cove and around Grandfather Mountain. Completed in 1983, the Linn Cove Viaduct manages to bridge the missing section with minimal damage to the mountain. It is is 1,243 feet long and is made up of 153 pre-cast segments weighing 50 tons each. It is the world's most complicated concrete bridge and cost over $10 million to construct. The views from the viaduct are astounding, since the bridge stands at an elevation of 4,100 feet.
This photo was provided by Ucumari Photography, 2015.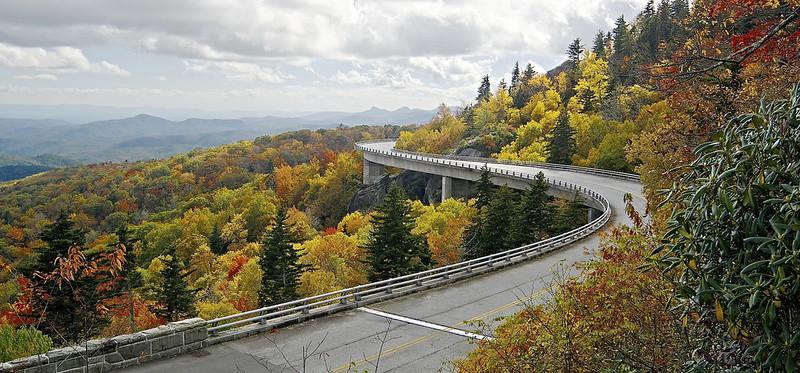 Citation (Chicago Style):
Read the related article:
Usage Statement:
This item has a Creative Commons license for re-use.  The Creative Commons BY-NC-ND license means that you may copy or redistribute the item for any purpose, even commercially, as long as you give credit to the original author or creator of the item and provide a link to the license. This license does not allow for any remixing, transforming, or building upon the original. That means that you cannot alter it. For more information about Creative Commons licensing and a link to the license, see full details at https://creativecommons.org/licenses/by-nc-nd/4.0/.