Printer-friendly page
Man applies inlay designs to a wood plaque at handicraft workshop in Hoi An
A man squatting on the floor applies inlay designs to a wood plaque at a handicraft workshop in Hoi An. The employees at this workshop are all disabled, but capable of making the precision crafts sold by the shop. The plaque this artisan is making depicts an outdoor mountain scene with a horse and rider, bordered by geometric and floral designs. Another plaque features large Chinese-style characters, undoubtedly invoking good fortune for the owner.
Hoi An already was a thriving sea port for sailing ships and maritime trade by the 1700s. Ethnic Chinese populations are found in all urban and trade centers of Vietnam, but they are particularly large in Hoi An. Thus the frequent use of Chinese characters in art and on public buildings. Quoc ngu was invented in the mid 17th century by Portuguese missionaries who modified the Latin alphabet with accents and signs to represent the consonants, vowels, and tones of spoken Vietnamese, and was later refined by French missionaries. When Vietnam was divided into North and South in 1954, quoc ngu became the official written language of both nations. Chinese writing can still be seen in present-day Vietnam in cities with large populations of ethnic Chinese, such as Hoi An, where this photograph was taken.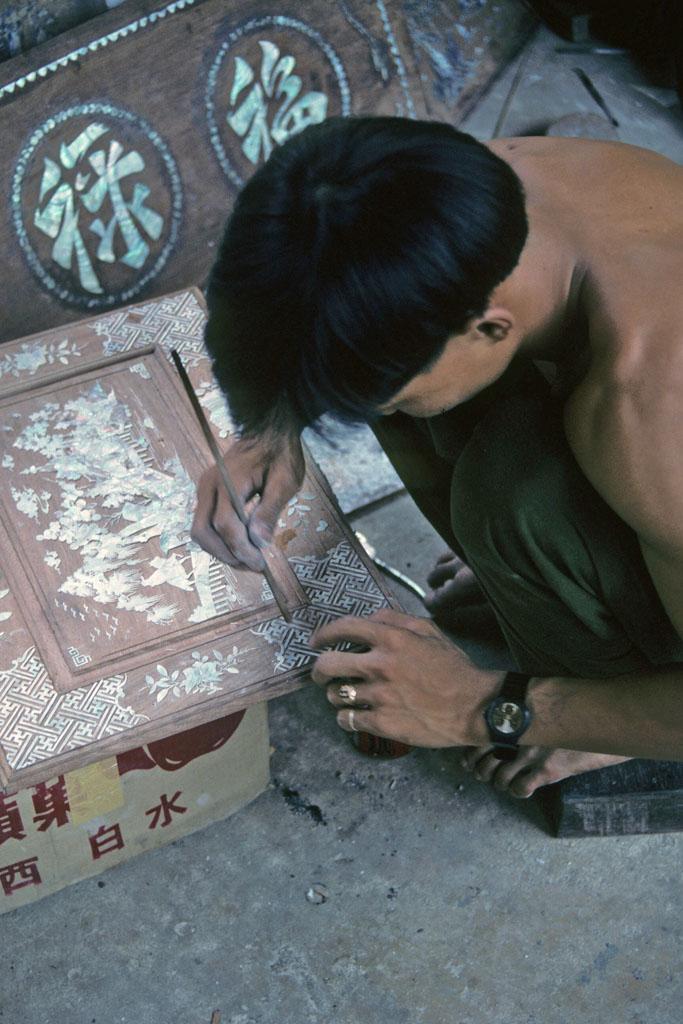 Usage Statement:
This item has a Creative Commons license for re-use.  This Creative Commons BY-NC-SA license means that you may use, remix, tweak, and build upon the work for non-commerical purposes as long as you credit the original creator and as long as you license your new creation using the same license. For more information about Creative Commons licensing and a link to the license, see full details at https://creativecommons.org/licenses/by-nc-sa/4.0/.