Man carving wood plaque for sale at handicraft workshop in Hoi An
A man in a white shirt, grey pants, and a red cap crouches on a mat as he carves a wood plaque at a handicraft workshop in Hoi An. This shop employs disabled workers. The man holds a hammering block in his right hand, steadying it with his left hand, as he bends over the wood plaque he is incising.Two chisels or other carving tools, and some carved wood plaques, are visible at right. The man works on a yellow, blue, and white striped woven mat set on the workshop's concrete floor.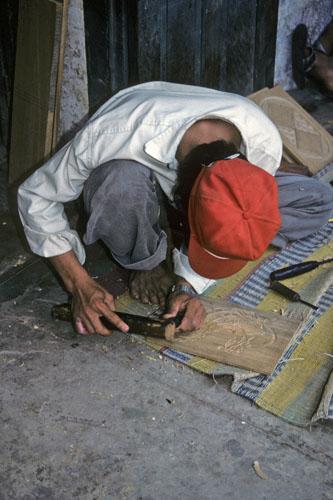 Usage Statement:
This item has a Creative Commons license for re-use.  The Creative Commons BY NC SA license means that you may use, remix, tweak, and build upon the work for non-commerical purposes purposes as long as you credit the original creator and as long as you license your new creation using the same license. That means that you cannot alter it. For more information about Creative Commons licensing and a link to the license, see full details at https://creativecommons.org/licenses/by-nd/4.0/.