Man rowing thatched roof boat with his bare foot near Hoa Lu
A man rows a thatched roof boat with his bare foot near Hoa Lu. The man, who sits exposed to the sun at the front of the boat, wears a T-shirt, long pants, and a green cloth hat. His back support is a single plank of wood propped against a bamboo railing that runs across the back of the boat. He rows, or adjusts the small boat's course, with his outstretched leg.The back of the boat is sheltered by the rounded thatch roof, which can shade cargo from the elements and possibly allow a few passengers to sleep inside under the low roof.Tall bluffs and a house are visible on shore in the background. The kind of rocky outcrop seen here is characteristic of northern Vietnam.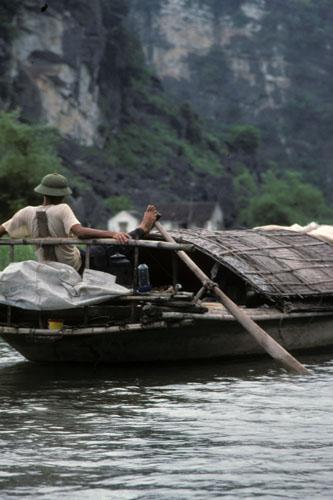 Usage Statement:
This item has a Creative Commons license for re-use.  The Creative Commons BY NC SA license means that you may use, remix, tweak, and build upon the work for non-commerical purposes purposes as long as you credit the original creator and as long as you license your new creation using the same license. That means that you cannot alter it. For more information about Creative Commons licensing and a link to the license, see full details at https://creativecommons.org/licenses/by-nd/4.0/.