Mother and child in Cajabamba, Ecuador
A woman carries a young child on her back in a sling made of a blue cloak and a black strap. The woman is wearing a black Bowler hat and the child is wearing a red knitted cap.The Ecuadorian highlands are home to several thousand Quechua-speaking Andean Indians who have blended the traditions of both their Inca ancestors and the Spanish conquistadors. Here you can see an Andean Indian woman carrying her child on her back in a traditional sling, while she wears a modern (albeit dated to our eyes) European bowler hat. The cap worn by the child is most likely Alpaca wool, shorn from the llamas that roam the high Andean peaks.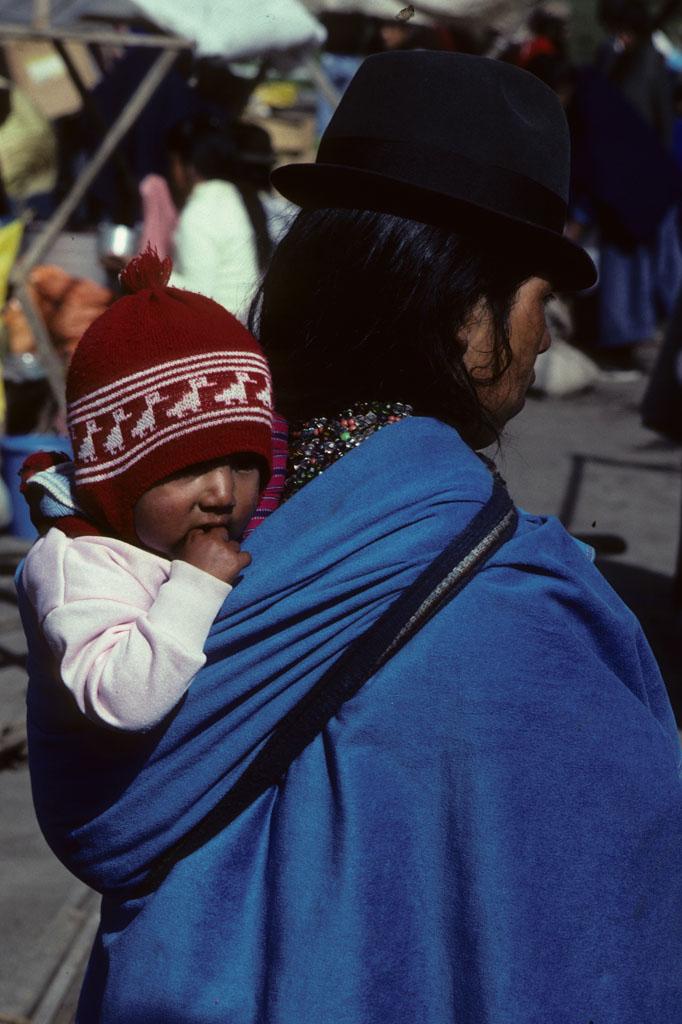 Usage Statement:
This item has a Creative Commons license for re-use.  The Creative Commons BY NC SA license means that you may use, remix, tweak, and build upon the work for non-commerical purposes purposes as long as you credit the original creator and as long as you license your new creation using the same license. That means that you cannot alter it. For more information about Creative Commons licensing and a link to the license, see full details at https://creativecommons.org/licenses/by-nd/4.0/.