Printer-friendly page
Demon king Ravana with twenty arms (Thai Ramayana mural)
This detail on a painted mural at the Emerald Buddha Temple depicts the demon king Ravana siting on a royal pavillion platform and gesturing with twenty arms (ten emerging from each shoulder). Ravana is speaking to another blue-faced demon partially seen at the base of the pavillion stairs on the right. Ravana likely is telling his demon subject about his devious plan to capture Sita, the beautiful wife of Prince Rama.
On the Thai temple paintings, Ravana's skin is painted green or dark blue, just like Rama's is. Ravana wears golden clothes and a crown, but his fierce facial features distinguish the figure as a demon. The use of additional limbs (or heads!) on portrait painting of super-human beings likely came to Thai court art from India, where it is conventionally used to show exceptional powers of observation or action.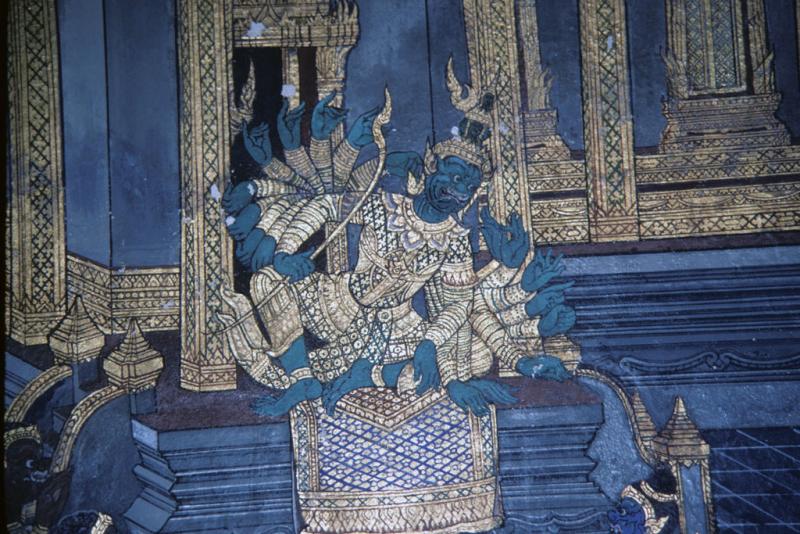 Usage Statement:
This item has a Creative Commons license for re-use.  The Creative Commons BY NC SA license means that you may use, remix, tweak, and build upon the work for non-commerical purposes purposes as long as you credit the original creator and as long as you license your new creation using the same license. That means that you cannot alter it. For more information about Creative Commons licensing and a link to the license, see full details at https://creativecommons.org/licenses/by-nd/4.0/.