Printer-friendly page
Monkey god Hanuman in giant form kneeling (Thai Ramayana mural)
This image of the monkey god Hanuman on a mural painted at the Emerald Buddha Temple shows him perched on one knee wearing golden royal Thai clothes. Hanuman's mouth is open and his larger-than-human teeth are visible. Hanuman has made himself gigantic and he kneels in front of a crowd of tiny people.
Hanuman is the son of a monkey princess and the Wind God. This makes him the nephew of the green and red monkey kings of the forest. Hanuman is educated by the god Siva, who makes Hanuman invincible and able to transform himself into different forms. Sometimes he outmaneuvers his enemies by becoming a huge giant; sometimes he makes himself so small he can sneak past them unnoticed or even enter their bodies.
Hanuman's mother told him when he was young that his destiny would be to aid Rama, an incarnation of the god Vishnu, when Rama appeared on the earth. Hanuman was able to do this by providing Rama with the monkey armies he needs to storm the demon island of Lanka and retrieve his kidnapped wife Sita from the demon king Ravana.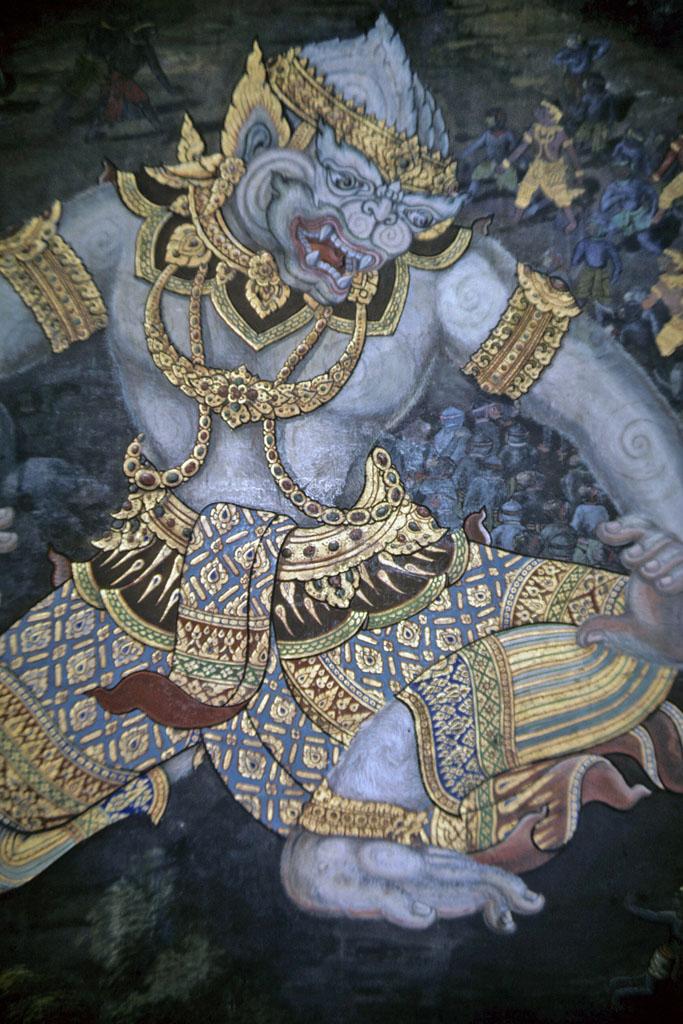 Usage Statement:
This item has a Creative Commons license for re-use.  The Creative Commons BY NC SA license means that you may use, remix, tweak, and build upon the work for non-commerical purposes purposes as long as you credit the original creator and as long as you license your new creation using the same license. That means that you cannot alter it. For more information about Creative Commons licensing and a link to the license, see full details at https://creativecommons.org/licenses/by-nd/4.0/.