Mural of a Spanish conquistador
A mural painted on tile depicts one of the Spanish conquistadors. A plaque commemorating the conquest is next to the mural.
When the conquistador Francisco Pizarro arrived in Ecuador in 1531 he found a country just recovering from a civil war. The Inca rulers had been fighting amongst themselves for leadership and were in no condition to repel the Spanish invaders. The conquistadors were fresh from the conquest of Mexico and expected to find great riches in the Inca empire. They were not disappointed. After tricking the Inca leader into an ambush, Pizarro was able to overrun the still-divided Inca forces and open the empire to the rapacious appetites of the conquistadors. By 1534, the Inca empire had fallen and the Spanish conquistadors had set up numerous trading posts and ports to begin exporting the riches of South America's greatest Empire. You can still find today hundreds of fortifications and walls built by the war-like Inca rulers, though they only ruled for less than two hundred years.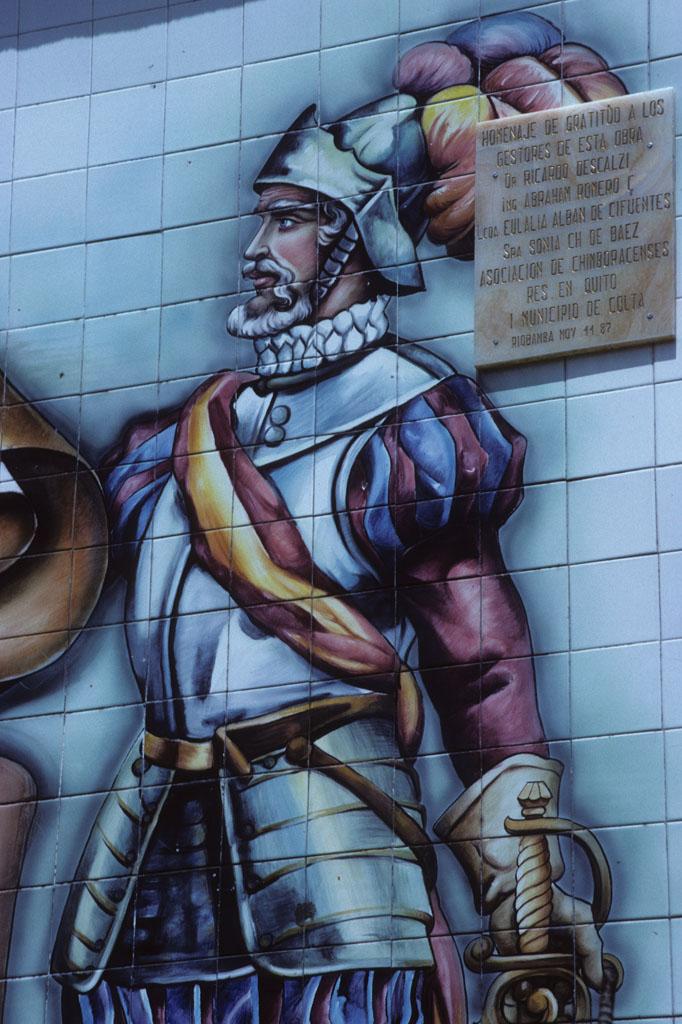 Usage Statement:
This item has a Creative Commons license for re-use.  The Creative Commons BY NC SA license means that you may use, remix, tweak, and build upon the work for non-commerical purposes purposes as long as you credit the original creator and as long as you license your new creation using the same license. That means that you cannot alter it. For more information about Creative Commons licensing and a link to the license, see full details at https://creativecommons.org/licenses/by-nd/4.0/.