Ravana's niece pretends to be the floating dead Sita (Thai Ramayana mural)
Ravana's niece pretends to be the floating dead Sita (Thai Ramayana mural)
Floating on her back extended in the water, Ravana's niece pretends to be the dead Sita, as seen in a painted mural detail at the Emerald Buddha Temple. The niece is dressed in royal Siamese clothes and a tall crown, all painted in gold leaf paint. Tall rocks are visible at the left of the calm water in which the "fake" Sita floats.
At Ravana's behest, his niece transforms herself to impersonate Sita and then pretends she is dead to fool Rama. She floats down a river and across the sea all the way to a river bank where Rama and his younger brother Laksman are camping. Ravana expects they will stop pursuing Sita if they are convinced she has died.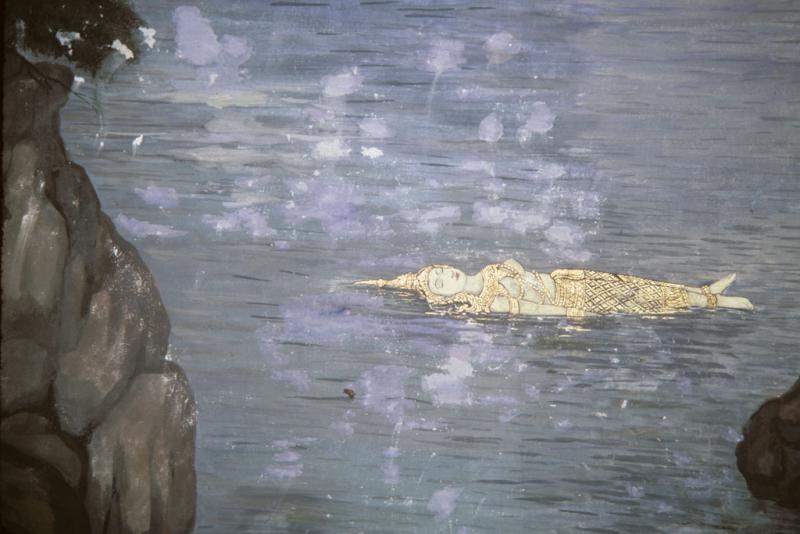 Usage Statement:
This item has a Creative Commons license for re-use.  The Creative Commons BY NC SA license means that you may use, remix, tweak, and build upon the work for non-commerical purposes purposes as long as you credit the original creator and as long as you license your new creation using the same license. That means that you cannot alter it. For more information about Creative Commons licensing and a link to the license, see full details at https://creativecommons.org/licenses/by-nd/4.0/.