Printer-friendly page
Ten-armed Ravana gets his dream interpreted by his brother (Thai Ramayana mural)
Ten-armed Ravana gets his dream interpreted by his brother (Thai Ramayana mural)
In this mural detail at the Emerald Buddha Temple, the demon king Ravana has his dream interpreted by his younger brother Bhibek, the royal astrologer. Ravana is shown here seated on a raised cushion in golden attire, waving his ten arms, while his brother sits on a small carpet at Ravana's feet. Ravana was furious to have his city of Lanka burned by Hanuman, but now he is troubled by a strange dream. In the dream, a white vulture from the east attacks and kills a black vulture from the west. The black vulture falls to the ground by a demon with an oil lamp. The demon is burned to ashes.
Ravana's brother tells him that the white vulture is Rama and the black vulture is Ravana. He says the dream means that Rama will destroy Ravana and his demon city if Sita is not returned. Hearing the dream's interpretation, Ravana only becomes more angry and determined to keep Sita for himself.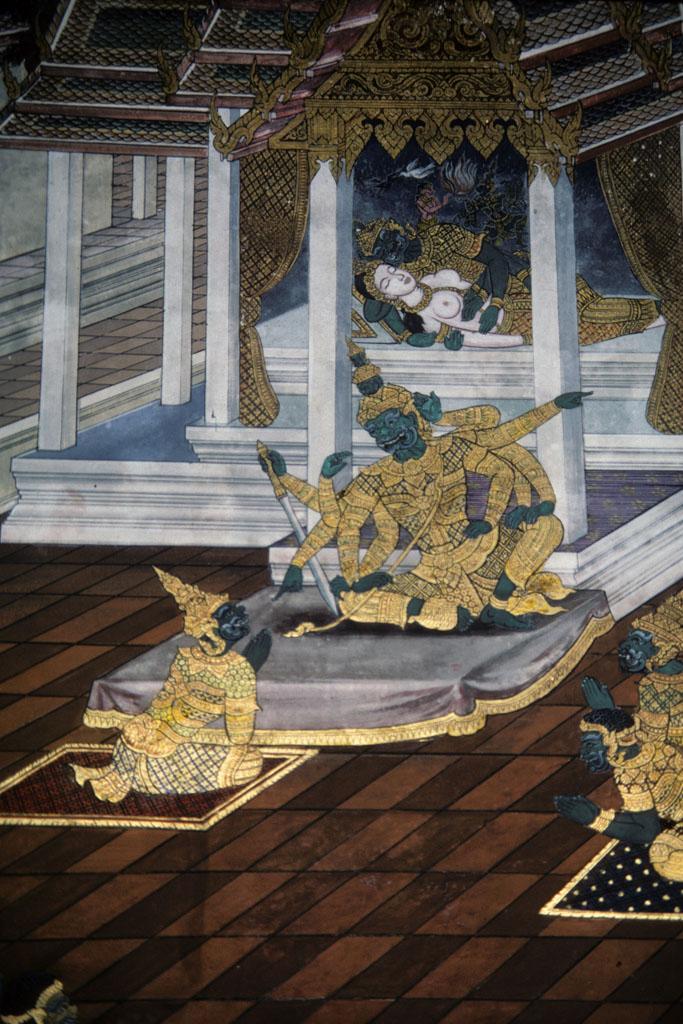 Usage Statement:
This item has a Creative Commons license for re-use.  This Creative Commons BY-NC-SA license means that you may use, remix, tweak, and build upon the work for non-commerical purposes as long as you credit the original creator and as long as you license your new creation using the same license. For more information about Creative Commons licensing and a link to the license, see full details at https://creativecommons.org/licenses/by-nc-sa/4.0/.