Printer-friendly page
Patrick Ferguson monument at Kings Mountain
A monument to Patrick Ferguson, commander of loyalist troops who died at the Battle of Kings Mountain during the American Revolution.
Inscription:
TO THE MEMORY OF / COL. PATRICK FERGUSON / SEVENTY-FIRST REGIMENT. / HIGHLAND LIGHT INFANTRY. 
BORN IN ABERDEENSHIRE, / SCOTLAND IN 1744. / KILLED OCTOBER 7, 1780 / IN ACTION AT / KING'S MOUNTAIN / WHILE IN COMMAND OF / THE BRITISH TROOPS. / A SOLDIER OF MILITARY / DISTINCTION AND HONOR. 
THIS MEMORIAL / IS FROM THE CITIZENS OF / THE UNITED STATES OF AMERICA / IN TOKEN OF THEIR APPRECIATION / OF THE BONDS OF FRIENDSHIP AND / PEACE BETWEEN THEM AND THE / CITIZENS OF THE BRITISH EMPIRE / ERECTED OCTOBER 7, 1930
This marker is located Marker is in Blacksburg, South Carolina, in York County. Additional images and location information available at https://www.hmdb.org/Marker.asp?Marker=17655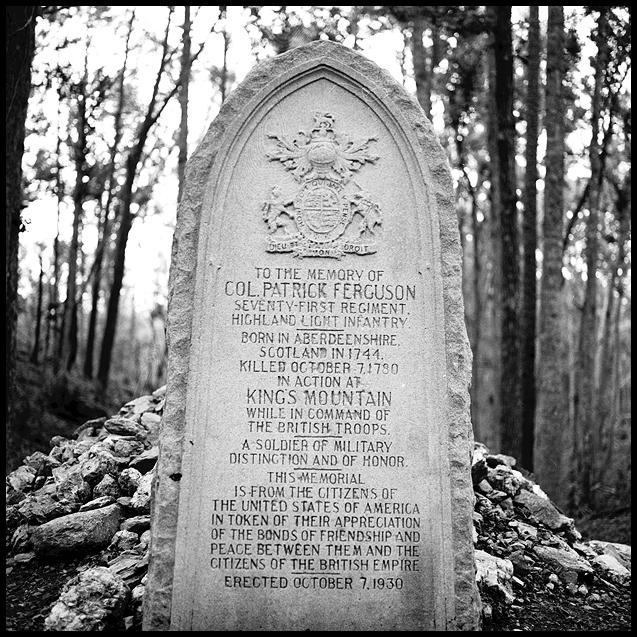 Read the related article:
Usage Statement:
This item has a Creative Commons license for re-use.  This Creative Commons BY-NC-SA license means that you may use, remix, tweak, and build upon the work for non-commerical purposes as long as you credit the original creator and as long as you license your new creation using the same license. For more information about Creative Commons licensing and a link to the license, see full details at https://creativecommons.org/licenses/by-nc-sa/4.0/.