Printer-friendly page
Protest at Piedmont Leaf Tobacco Company, 1946
This photograph shows members of the United Tobacco Workers Local 22 union striking on a picket line at the R. J. Reynolds Tobacco Company in Winston-Salem, N.C. in June of 1946. The picket line grew as supportive employees from other Reynolds plants joined during their lunch hours.  
Image used courtesy of the Forsyth County Public Library, Winston-Salem, N.C.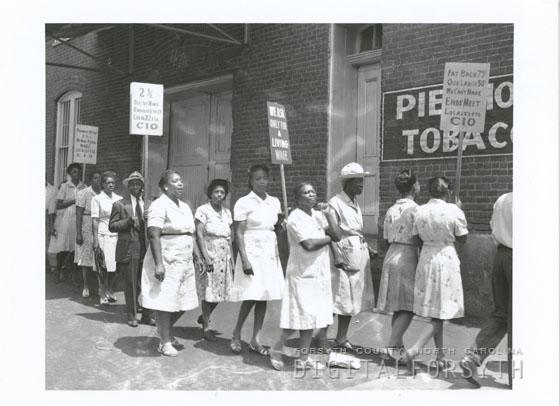 Citation (Chicago Style):
Read the related article:
Usage Statement:
This item has been made available for non-profit use in education and teaching by the institution or organization that owns the item or it may be included in NCpedia and/or ANCHOR by permission. Please click the link to the item at the institution's website for more information about copyright and allowable uses for the item.