Printer-friendly page
Telegram announcing the surrender of Fort Sumter
Telegram announcing the surrender of Fort Sumter
Telegram was sent by Major Robert Anderson at 10:30am, April 18, 1861, announcing the surrender of Forst Sumter to confederate General Beauregard.
S.S.BALTIC.OFF SANDY HOOK APR.EIGHTEENTH.TEN THIRTY A.M. .VIA NEW YORK. . HON.S.CAMERON. SECY.WAR. WASHN. HAVING DEFENDED FORT SUMTER FOR THIRTY FOUR HOURS UNTIL THE QUARTERS WERE ENTIRELY BURNED THE MAIN GATES DESTROYED BY FIRE.THE GORGE WALLS SERIOUSLY INJURED.THE MAGAZINE SURROUNDED BY FLAMES AND ITS DOOR CLOSED FROM THE EFFECTS OF HEAT .FOUR BARRELLS AND THREE CARTRIDGES OF POWDER ONLY BEING AVAILABLE AND NO PROVISIONS REMAINING BUT PORK.I ACCEPTED TERMS OF EVACUATION OFFERED BY GENERAL BEAUREGARD BEING ON SAME OFFERED BY HIM ON THE ELEVENTH INST. PRIOR TO THE COMMENCEMENT OF HOSTILITIES AND MARCHED OUT OF THE FORT SUNDAY AFTERNOON THE FOURTEENTH INST.WITH COLORS FLYING AND DRUMS BEATING.BRINGING AWAY COMPANY AND PRIVATE PROPERTY AND SALUTING MY FLAG WITH FIFTY GUNS. ROBERT ANDERSON.MAJOR FIRST ARTILLERY.COMMANDING.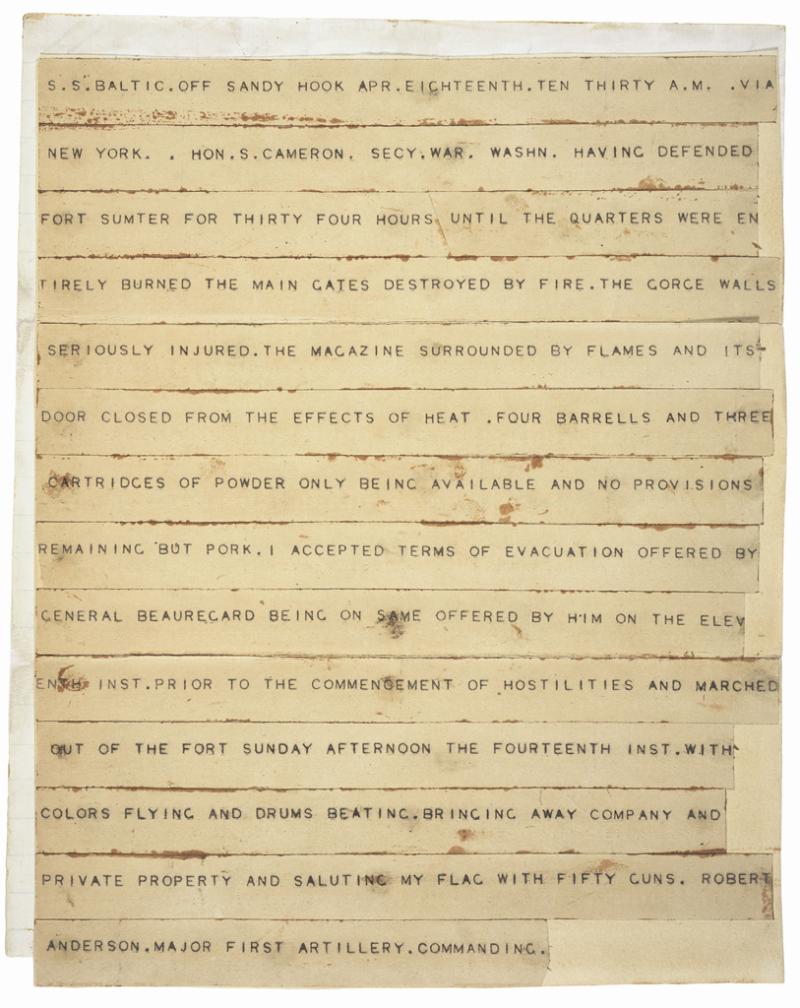 Usage Statement:
Public Domain is a copyright term that is often used when talking about copyright for creative works. Under U.S. copyright law, individual items that are in the public domain are items that are no longer protected by copyright law. This means that you do not need to request permission to re-use, re-publish or even change a copy of the item. Items enter the public domain under U.S. copyright law for a number of reasons: the original copyright may have expired; the item was created by the U.S. Federal Government or other governmental entity that views the things it creates as in the public domain; the work was never protected by copyright for some other reason related to how it was produced (for example, it was a speech that wasn't written down or recorded); or the work doesn't have enough originality to make it eligible for copyright protection.