Printer-friendly page
The Tudor Dynasty of England
The Tudor Dynasty of England
Family tree of the Tudor dynasty of England, including kings and queens from Henry VII to James I. Under laws of primogeniture, a king was succeeded by his eldest son -- unless he died without a son, in which case things got complicated. The order of succession was as follows:
Sons, in order from eldest to youngest
Daughters, in order from eldest to youngest
Eldest and/or closest male relation of the current king
Since Edward VI and Mary I had no children, they were succeeded by their sisters. Elizabeth I also died without children, and made special arrangements so that James Stuart, King of Scotland, would succeed her as King of England. Without such advance arrangements, war could break out over the succession. Kings and queens belong to a house -- a family with a single name. Henry Tudor was the first king in the "House of Tudor." James I was the first king of the House of Stuart.
Henry VII (Henry Tudor)
born 1457, ruled 1485–1509
Henry VIII
son of Henry VII
born 1491, ruled 1509–1547
Edward VI
son of Henry VIII by Jane Seymour
born 1537, ruled 1547–1553
Mary I ("Bloody Mary")
daughter of Henry VIII by Catherine of Aragon
born 1516, ruled 1553–1558
Elizabeth I
daughter of Henry VIII by Anne Boleyn
born 1533, ruled 1558–1603
James I (James Stuart)
great-grandson of Henry VII
born 1566, ruled England 1603–1625
James VI of Scotland (ruled 1567–1625)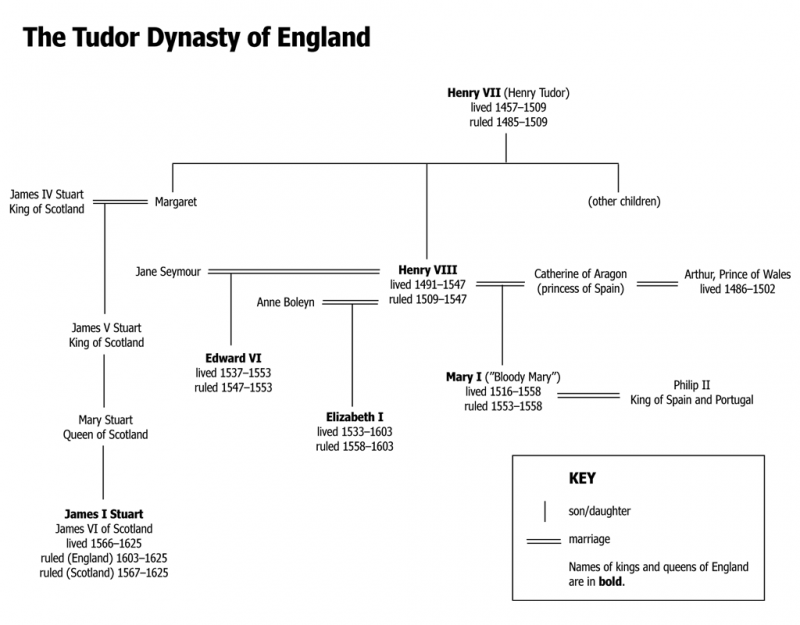 Usage Statement:
This item has a Creative Commons license for re-use.  This Creative Commons BY-NC-SA license means that you may use, remix, tweak, and build upon the work for non-commerical purposes as long as you credit the original creator and as long as you license your new creation using the same license. For more information about Creative Commons licensing and a link to the license, see full details at https://creativecommons.org/licenses/by-nc-sa/4.0/.