Printer-friendly page
Two women sit talking outside a rope and mat shop in Hanoi
Two women sit talking outside a rope and mat shop in Hanoi
Two women sit talking outside a rope and mat shop in Hanoi. Behind them, colorful coils of rope and rolled mats are piled up to the shop's ceiling. The two women chatting, probably fellow shopkeepers, sit on low chairs in casual urban dress, including dark slacks, sandals, and colorful blouses. One woman holds a newspaper in her hands. Vietnam has a high literacy rate, said to be over 90%, for both men and women.
Most Southeast Asians use woven mats somewhere in their homes, often as decorative floor coverings, but also sometimes as spaces for eating or sleeping. Mats essentially pre-date most forms of furniture in Southeast Asia, and they were originally all woven from natural plant fibers, usually palm fronds.
As this picture shows, mats and ropes in urban areas now mostly are made from synthetic fibers, dyed in a wide variety of bright colors. The heavy-gauge ropes probably are sold not just for household use, but also to shipping and packing companies. Woven or beaded curtains for sale are visible at the top of the frame. These are used in some homes or restaurants as room dividers.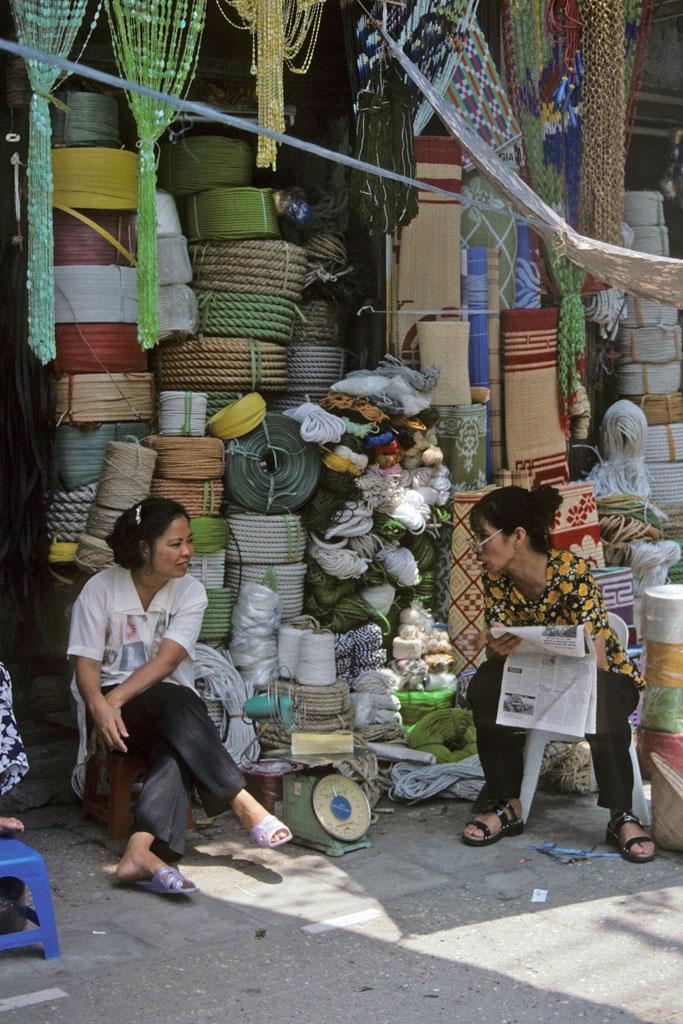 Usage Statement:
This item has a Creative Commons license for re-use.  This Creative Commons BY-NC-SA license means that you may use, remix, tweak, and build upon the work for non-commerical purposes as long as you credit the original creator and as long as you license your new creation using the same license. For more information about Creative Commons licensing and a link to the license, see full details at https://creativecommons.org/licenses/by-nc-sa/4.0/.