Printer-friendly page
Miss North Carolina Scholarship Pageant
Each year in late June, local pageant winners from across North Carolina convene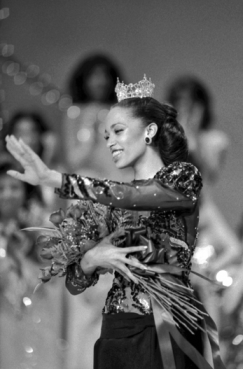 in Raleigh to compete for the title of Miss North Carolina and the right to represent North Carolina in the Miss America Pageant in Atlantic City, N.J., in September. The Miss North Carolina Scholarship Pageant celebrated its 69th anniversary in 2006, although there is disagreement about when the first pageant was actually held. According to pageant records, the event has been held annually since 1937 except for one year during World War II. The Wilmington Star reported that there was a pageant held in 1933 in Wrightsville Beach, which was won by Miss Sanford, Leola Councilman. Miss America Pageant records, however, do not include a mention of a 1933 Miss North Carolina.
The last time a Miss North Carolina reigned as Miss America was in 1962, when Maria Beale Fletcher, Miss Asheville, won the honor. By the early 2000s the Miss North Carolina Scholarship Pageant had begun emphasizing academic, philanthropic, and other accomplishments rather than mere beauty. In addition to being judged during the pageant in talent, interview, swimsuit, and evening wear categories, modern contestants must have previously chosen a social cause and performed community service. The winner and the runners-up are awarded scholarships and prizes. The reigning Miss North Carolina not only represents the state in the prestigious Miss America Pageant but also maintains a busy schedule, presiding over local pageants, charity events, and festivals.
Additional information from NCpedia editors at the State Library of North Carolina: :
Here is a list of pageant winners:
1933 Leona Councilman
1937 Ruth McLean Covington
1938
1939 Margaret Wood
1940 Jeanne Wofford
1941 Joey August Paxton
1942 Hilda Ward Taylor
1943 Betsy Marie Dalton
1945 Dorothy Johnson
1946 Trudy Riley
1947 Alice Vivian White
1948 Patsy Ann Osbourne
1949 Nancy Lee Yelverton
1950 Carolyn Edwards
1951 Lu Long Ogburn
1952 Barbara Anne Harris
1953 Barbara Crockett
1954 Betty Jo Ring
1955 Clara Faye Arnold
1956 Joan Spinks Melton
1957 Elaine Herndon
1958 Betty Lane Evans
1959 Judith Lynn Klipfel
1960 Ann Farrington Herring
1961 Maria Beale Fletcher
1962 Janice Elizabeth Barron
1963 Jeanne Flinn Swanner
1964 Esther Sharon Finch
1965 Penelope Clark
1966 Nannette Jackson Minor
1967 Sarah Elizabeth Stedman
1968 Elisa Annette Johnson
1969 Patricia Elaine Johnson
1970 Cornelia Collette Lerner
1971 Patsy Gail Wood
1972 Constance Ann Dorn
1973 Heather Lee Walker
1974 Susan Lynn Griffin
1975 Susan Lawrence
1976 Susie Proffitt
1977 Kathy Fleming
1978 Deborah Shook
1979 Monta Anne Maki
1980 Janet Ward Black
1981 Lynn Williford
1982 Elizabeth Williams
1983 Deneen Graham
1984 Francesca Adler
1985 Joni Bennett Parker
1986 Karen C. Bloomquist
1987 Lori Boggs
1988 Lee Beaman
1989 Kelly Dawn Fletcher
1990 Scarlet Morgan
1991 Jennifer Vaden Smith
1992 Heidi Sue Williams
1993 Mary Susan Runion
1994 Dana Stephenson
1995 Lisa Bamford
1996 Jennifer Michelle Roberts
1997 Michelle Warren
1998 Kelli Bradshaw
1999 Kelly Trogdon
2000 Lorna McNeill
2001 Ashley Nicole House
2003 Dana Reason
2004 Kirstin Marie Elrod
2005 Brooke McLaurin
2006 Elizabeth Horton
2007 Jessica Jacobs
2008 Amanda Watson
2009 Katherine Southard
2010 Adrienne Leigh Core
2011 Hailey Best
2012 Arlie Honeycutt
2013 Johna Edmonds
2014 Beth Stovall
2015 Kate Peacock
2016 McKenzie Faggart
2017 Victoria Huggins
2018 Laura Matrazzo
2019/2020 Alexandra Badgett
2021 Carli Batson 
1 January 2006 | Patteson, Angelyn H.