Printer-friendly page
Graeber, Robert Walter (R.W.)
By James Stewart, NCSU Libraries, 2016
1 Jan. 1888 - 19 July 1967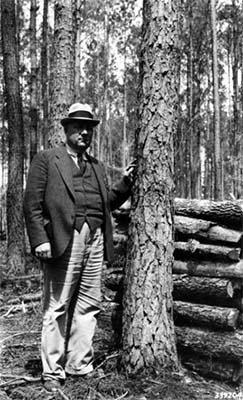 R. W. Graeber was a pioneer of North Carolina's forestry extension service and a leader of the North Carolina Forestry Association for several decades. 
R. W. Graber was born in Rowan County the oldest of four children to Harvey Augustus and Margaret Alice Lippard Graeber. After graduating from North Carolina College of Agriculture and Mechanic Arts (which later became North Carolina State University) in 1911 with a B.S. in agriculture, he began working for the state's department of agriculture serving as an assistant dairyman. In 1913 he became the first agricultural agent to represent Mecklenburg county. Later, he was the first North Carolina State University graduate to work as a full-time employee of the extension service. After three years he moved to South Carolina where he served as an agent in Lancaster and Bishopville. 
 
He would return to North Carolina and find his specialty working with timber thinning demonstrations. Graeber was appointed farm forestry specialist (or state extension forester) in 1925, specializing in the thinning and management of timberlands. He served in this role until his retirement in 1950. As the state extension forester he led hundreds of forestry demonstrations across North Carolina for farmers and sawmill operators. Graeber instructed them in the harvesting, timber scaling, planting and marketing of trees and lumber products. For those that Graber could not teach in person, he wrote extension circulars and numerous newspaper articles that were circulated nationwide. 
Graeber also was instrumental in establishing the Department of Forestry at North Carolina State University in 1929. He enrolled in the program himself and graduated from it in 1930 with a bachelor of science in forestry. Throughout his service Graeber was a member of the Society of American Foresters, a treasurer and director of the North Carolina Forestry Association and a director of the Forest Farmers Association.
Following his retirement he served as a forestry consultant and owned and operated Guilwake Forest, 600 acre-properties in Wake and Guilford Counties. In 1965 North Carolina State University honored Graeber with its Meritorious Service Award for his "outstanding service". 
His wife was Margaret Emma Shepherd Graber (1888-1996). They were married from Christmas Eve 1912 until his death in 1967. 
 
References:
Bailey, L. H. 1918. R.U.S.: Rural uplook service; a preliminary attempt to register the rural leadership in the United States and Canada. https://www.worldcat.org/title/rus-rural-uplook-service-a-preliminary-attempt-to-register-the-rural-leadership-in-the-united-states-and-canada/oclc/11708130 (accessed October 14, 2016).
"Gray Is Appointed Extension Forester". Perquimans Weekly, January 13, 1950.
"Robert Walton Graeber" Find A Grave. Jan. 15, 2011
"Robert Walter Graeber". Journal of Forestry, Vol. 65, November 1967.
Summary, Robert W. Graeber Papers, MC 00020, Special Collections Research Center, North Carolina State University Libraries, Raleigh, NC. http://www.lib.ncsu.edu/findingaids/mc00020 (accessed October 13, 2016).
Image Credits:
Mattoon, Wilbur R. [R. W. Graeber]. Photograph. April 1937. Item ua023_007-005-bx0016-018-005, Agricultural Extension and Research services (UA023.007), Special Collections Research Center at NCSU Libraries. https://d.lib.ncsu.edu/collections/catalog/ua023_007-005-bx0016-018-005#... (accessed October 13, 2016).
13 October 2016 | Stewart, James